ENGAGE! - Volunteers Wanted
LifeBio Kicks Off the ENGAGE Campaign!
Fighting feelings of division and lack of understanding, LifeBio brings people together to listen and enjoy other's stories and unique backgrounds. LifeBio has now initiated the ENGAGE! campaign to unite younger generations with seniors from coast to coast. 

LifeBio will publicize opportunities for people of all ages to spend time visiting in nursing homes and retirement communities—locations that are already committed to helping residents tell and share their memories and experiences. Connecting with people as they face life-threatening conditions in hospitals or in hospice care will also be possible.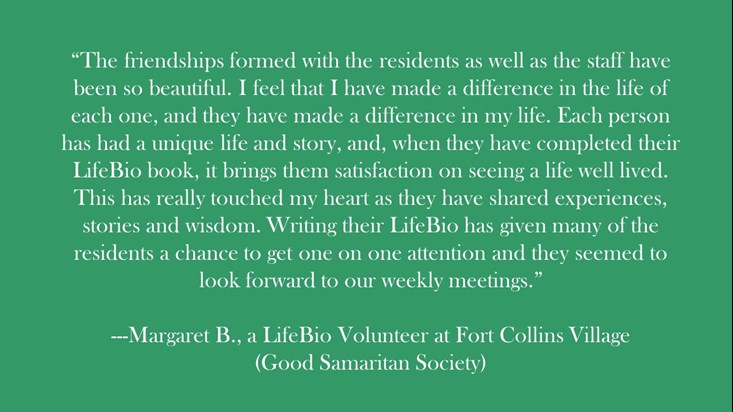 "At a time when people feel very disconnected and loneliness is on the rise, we want to bridge the gap and provide an incredible opportunity for people to visit face to face and build friendships across the generations" Beth Sanders, Founder and CEO of LifeBio, said ,"There is so much that we can learn when we listen deeply."

LifeBio's web-based biography system and life story journals will provide the structure for these visits to take place. Potential volunteers who respond to LifeBio's ENGAGE campaign will be directed to the nearest organization in their local area. It is also possible for some volunteers to connect via Skype with seniors. 

University students have also had the chance to connect with an older person using the power of life stories. Eryn T., a student at University of Alabama, said, "I have absolutely loved getting to know my senior partner, Al, these past few months. He inspires me every Friday during our sessions. He continues to show me to persevere even when mistakes happen, not to be afraid of trying something new, and that it is always okay to joke and be goofy. He is so encouraging towards me, and I have loved being his surrogate daughter for the past three months."

Beyond the legacy recorded, the process is good for senior's health. Reminiscence and life review has been found to increase happiness and satisfaction with life in a study of LifeBio conducted by Iowa State University.

With concerns that our society is overly addicted to phones and other electronics and missing out on face to face relationships, LifeBio's "Call to Connection" is designed to bridge the gap and help people meet someone in their 70s, 80s, 90s or 100+.

Bethany Zellner, LifeBio Director of Communications, heads up the ENGAGE! initiative and is excited to provide a solution to an ever growing problem. "Loneliness and social isolation impacts people of all ages, " Zellner explained, That's why we believe that LifeBio's ENGAGE campaign matters and can make a BIG difference,"
Call 937-303-4576 or send an email to info@lifebio.com if you would like to be part of LifeBio's ENGAGE! campaign to volunteer with seniors to capture life stories!  We can't wait to hear from you! 
ARE YOU LOCATED IN ONE OF THESE CITIES/STATES?   LET US KNOW IF YOU'D LIKE TO CONNECT WITH A COMMUNITY TO VOLUNTEER FOR A STORYTELLING PROJECT
(Please Note: The organizations that LifeBio works with may have specific requirements for volunteering. LifeBio will do our best to introduce you to a possible project in your local area.) 
Fayetteville, Arkansas
Little Rock, Arkansas
Anaheim, California
Carlsbad, California
Chula Vista, California
Claremont, California
Cupertino, California
Glendale, California
La Jolla, California
Los Angeles, California
Pasadena, California
San Diego, California
San Francisco, California
Santa Barbara, California
Fort Collins, Colorado
Highlands Ranch, Colorado
Cape Coral, Florida
Clermont, Florida
Jacksonville, Florida
Naples, Florida
North Naples, Florida
Orlando, Florida
Pensacola, Florida
Pompano Beach, Florida
Tavares, Florida
The Villages, Florida
Atlanta, Georgia
Sandy Springs, Georgia
Des Moines, Iowa
West Des Moines, Iowa
Clarendon Hills, Illinois
Downers Grove, Illinois
Hoffman Estates, Illinois
Chenoa, Illinois
Clarendon Hills, Illinois
Mokena, Illinois
Naperville, Illinois
South Bend, Indiana
Edgewood, Kentucky
Louisville, Kentucky
Alexandria, Louisiana
Portland, Maine
Baltimore, Maryland
Roslindale, Massachusetts
Battle Creek, Michigan
Plymouth, Minnesota
Charlotte, North Carolina
Fredericton New Brunswick, Canada
Albuquerque, New Mexico
Rochester, New York
Akron, Ohio
Cleveland Heights, Ohio
Chillicothe, Ohio
Columbus, Ohio
Monroe, Ohio
Mount Vernon, Ohio
Richmond Heights, Ohio
Sidney, Ohio
Xenia, Ohio
Waverley, Ohio
West Liberty, Ohio
Youngstown, Ohio
Broken Aarow, Oklahoma
Hollidaysburg, Pennsylvania
Easton, Pennsylvania
Quarryville, Pennsylvania
Brentwood, Tennessee
Germantown, Tennessee
Franklin, Tennessee
Knoxville, Tennessee
Nashville, Tennessee
Mt Juliet, Tennessee
Dallas, Texas
Fort Worth, Texas
Houston, Texas
Mesquite, Texas
Richmond, Virginia
Madison, Wisconsin