Independent Living
Building legacies and creating new friendships are ways we can help.
Tech savvy independent living residents and their family members love using the LifeBio Memory iOS or Android app to capture peoples' life stories in their own VOICE, without difficulty or delay. What a great way for younger generations to learn from older generations.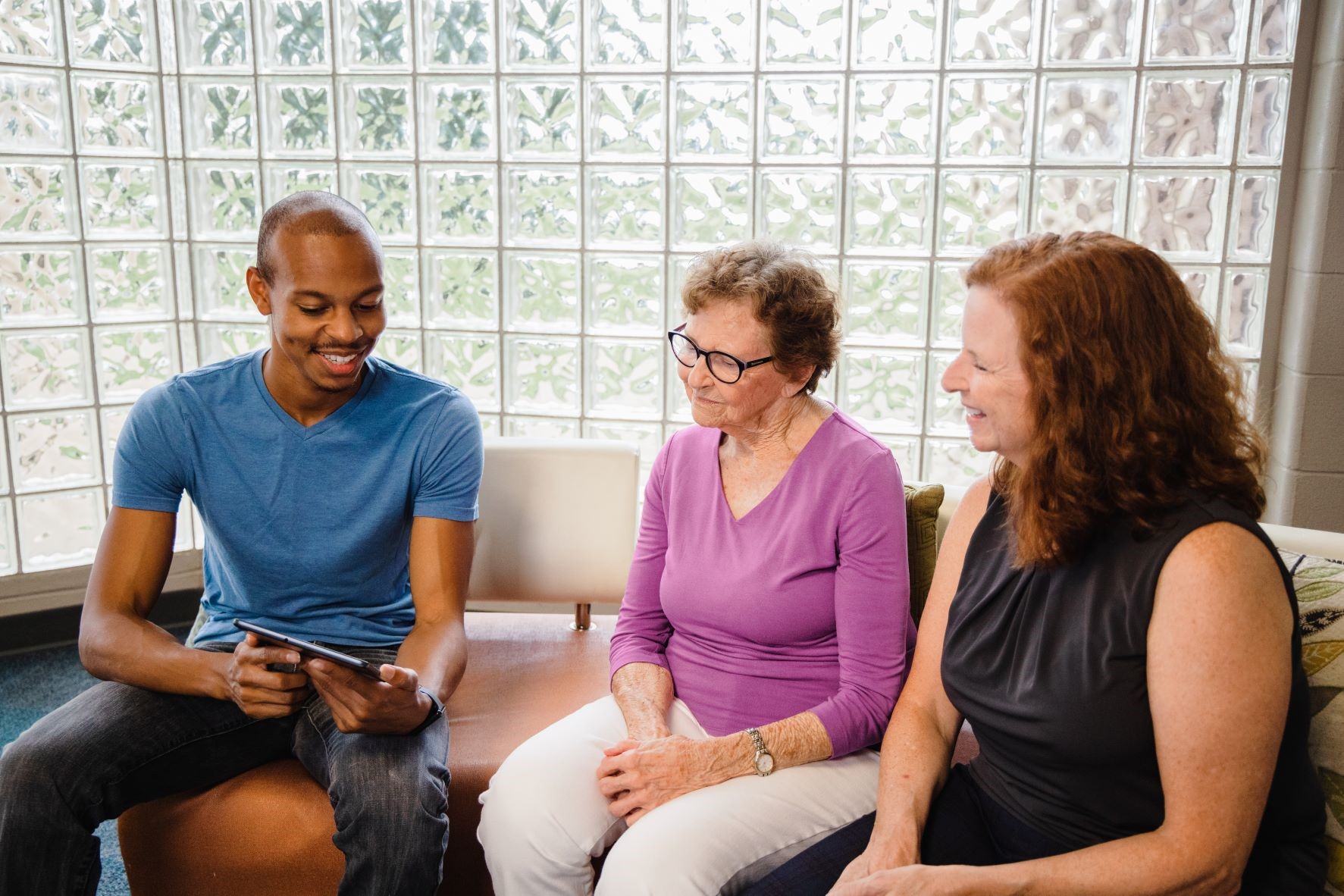 LifeBio Group Life Story Classes in Independent Living
LifeBio group life story classes can be led by staff members or residents (perhaps a former teacher or experienced group leader). These classes tend to be very social, so many times it is a matter of keeping the class on track as you go through each week's curriculum.  With both options below, a celebration at the end of the class is recommended, and people can share some of their stories and photos with the wider community!
Capturing life stories allows residents to improve mental health and increase feelings of purpose and meaning.
Research shows that participating in LifeBio increases happiness and satisfaction with life, while decreasing depression.
Reminiscence and engagement can help reduce loneliness too.  This group can really build friendships, and we all can use more friends! 
LifeBio 101 Class (up to 16 participants) 
LifeBio 101 offers opportunities for reminiscing, pair and share, and friendship building among residents. A fun 8-week class provides your community members with all that they need to share their life story. Each participant will receive a workbook and a Life Story Journal for this class.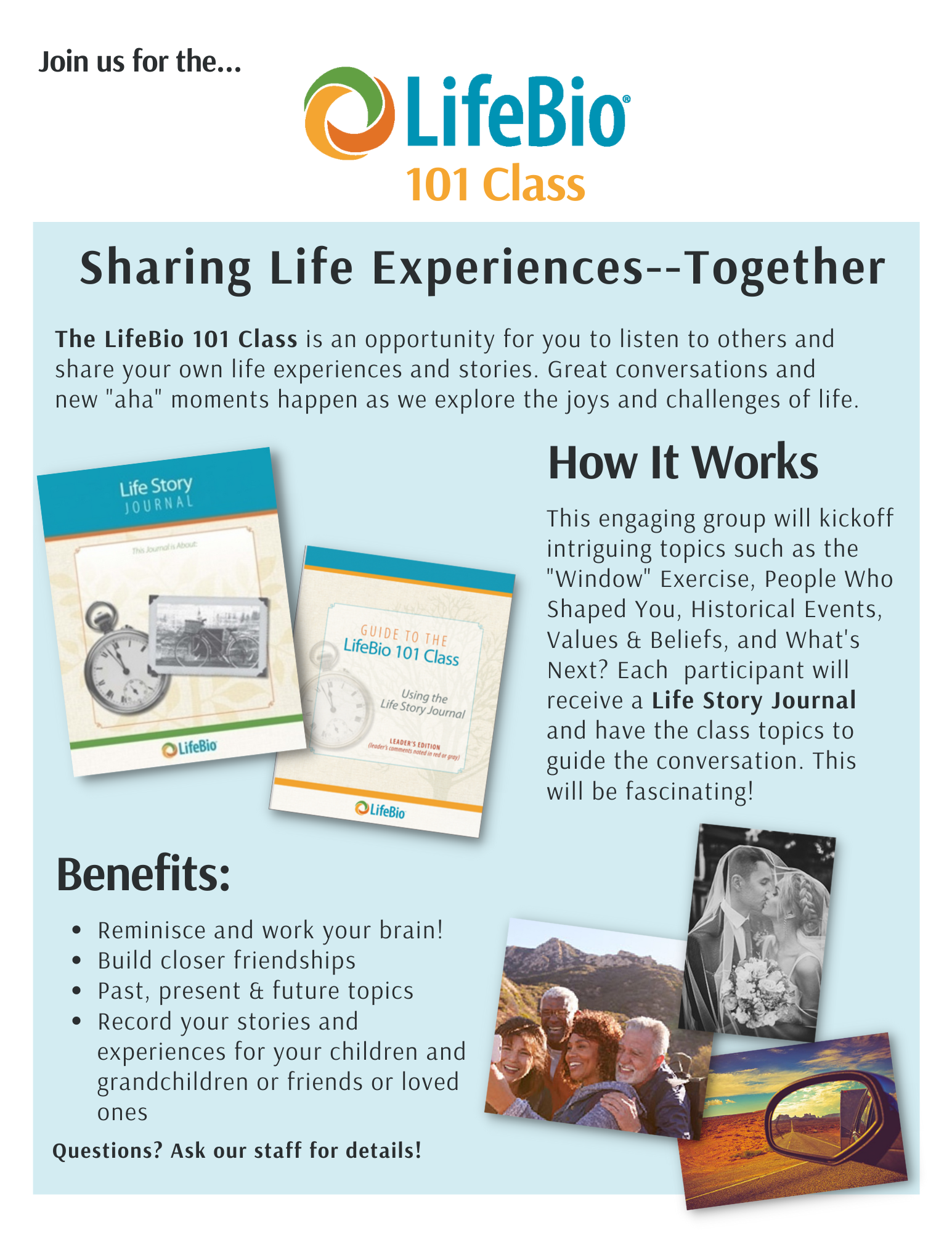 LifeBio Memory Group (up to 16 participants)
This simplified class format utilizes photo prompts and question prompts to get great discussions happening every week. It uses just one booklet for each member of the group and the facilitator.  This provides 12 weeks of content.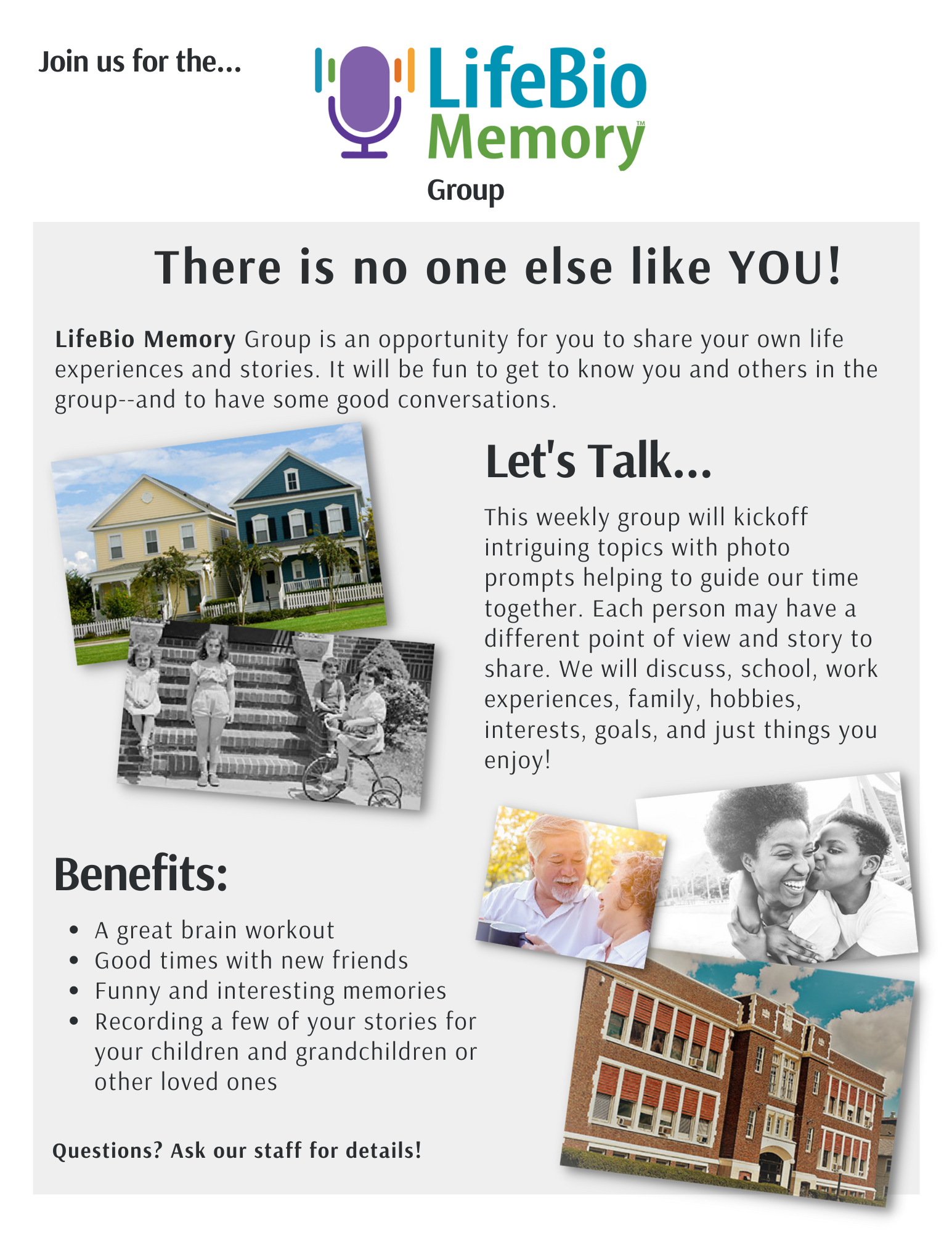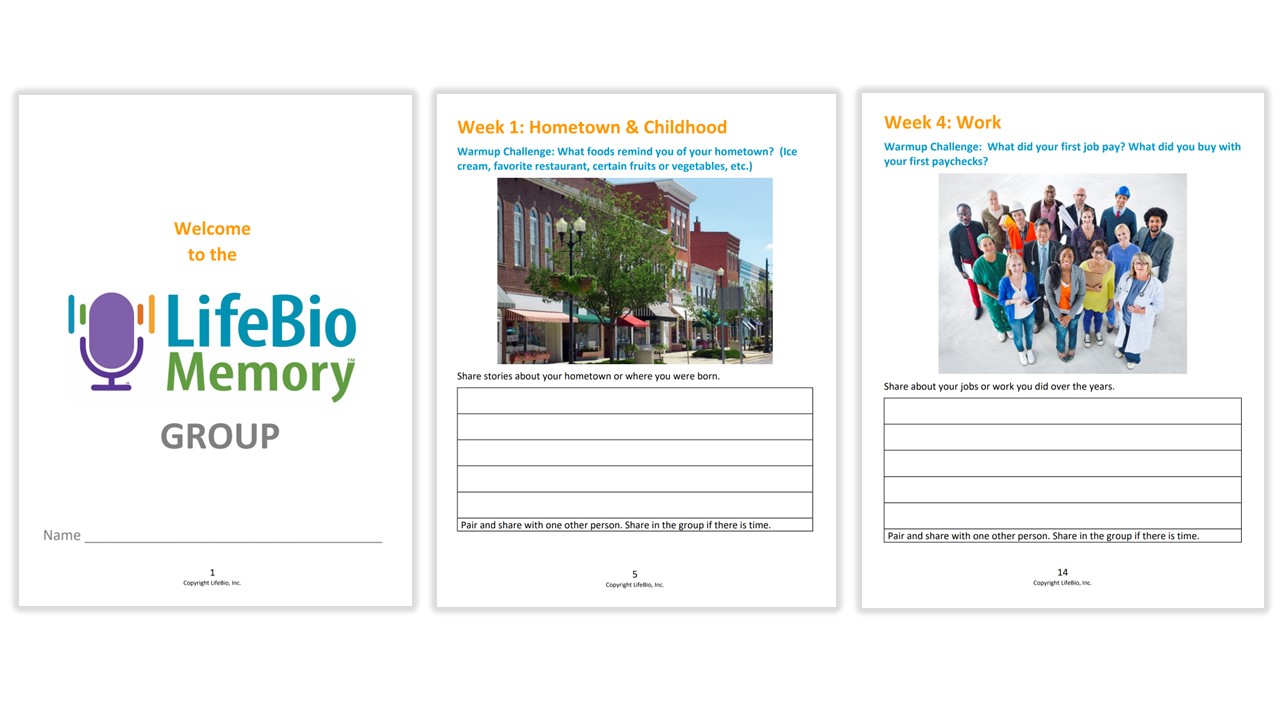 Optional Life Story Books
LifeBio provides the option for participants to receive a comb-bound printed Life Story Book. Upgrade hardcover options are also available and additional copies may also be purchased. In many cases, a community just offers the class and then residents/family members can choose to work directly with LifeBio to have books created.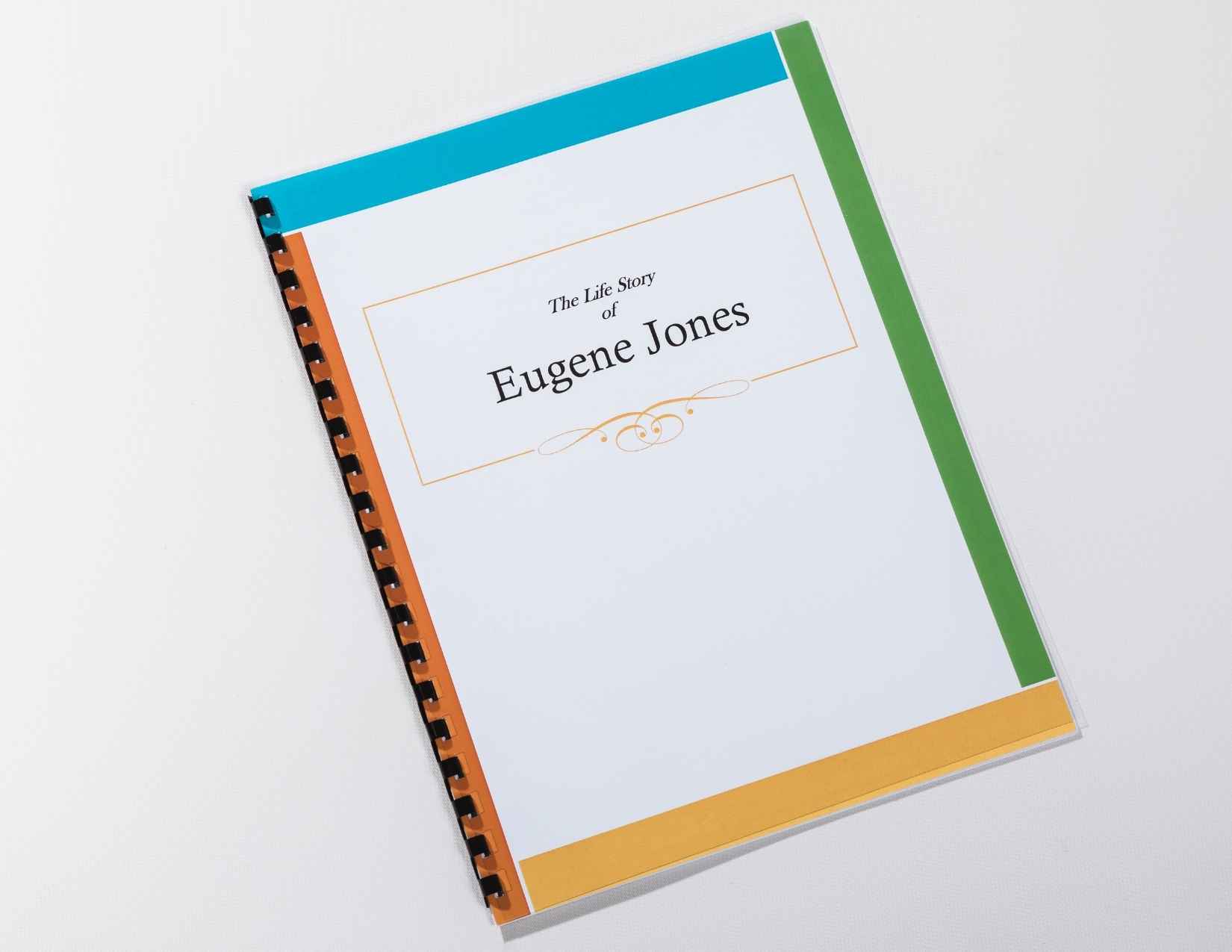 Optional Licensing for LifeBio Memory 
Customized agreements can be created for your specific Independent Living needs. Licensing can include a quantity of LifeBio Memory iOS/Android licenses for individuals who would like to record their VOICE using this easy-to-use app. For example, perhaps you would like to help up to  This is the simplest way to record the voices of independent living residents with questions and photo prompts on the screen. Set your community apart in the market with this Just click to record!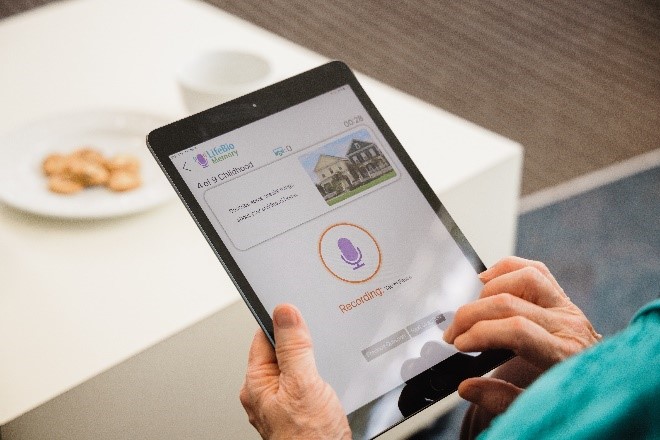 "I can't stress enough how fun and exciting it was to write my LifeBio! When I started, I thought I had very little to say. Boy, was I surprised!! 150 pages later I had a legacy to pass down to my grandchildren."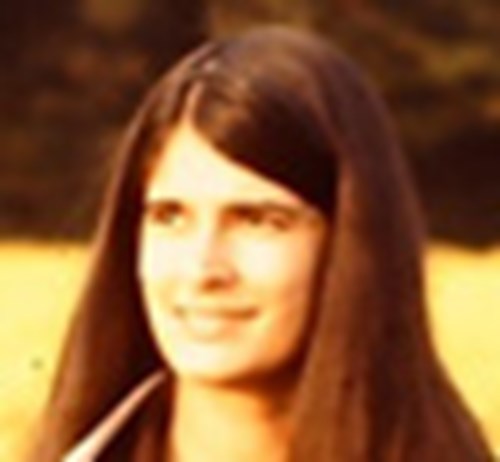 Terri P.
LifeBio uses reminiscence methods to encourage memories and conversations with residents in Independent Living.
Enhance resident experience by increasing social engagement and integrating personal storytelling into your community. LifeBio's approach stimulates the brain, promotes purpose and meaning, lowers depression, and contributes to healthy aging.