Research and Innovation Roundup
Loneliness Interventions
LifeBio captures life stories/biographies, health stories, veteran stories, and other personalized data from patients or clients. LifeBio and UnitedHealthcare are working on innovative approaches to help address loneliness and social isolation. This effort is led by UnitedHealthcare and Optum, and it is focused on research designed to help improve the health and wellbeing of members. Positive benefits of reminiscence and storytelling are being reported by most participants involved in the pilot programs so far. Ongoing research will track LifeBio's ability to help increase social connectedness while reducing loneliness and/or social isolation.

The LifeBio Project in Ohio
The LifeBio Project was implemented and evaluated in a pilot study in 16 Ohio nursing homes. This project was funded by Civil Monetary Penalty grant money and it was led by the Ohio Department of Medicaid. Volunteers and project staff conducted life story interviews with 186 residents. This is one of the largest studies of life story work in nursing homes in the United States. Upon completion of the program:
More than 80% of nursing home residents who participated in the project expressed positive experiences and enjoyment with the program.
The percentage of nursing home residents who reported depressive symptoms decreased over time.
Some residents did not want to reveal their stories to other people; others could not participate to due cognitive impairments and/or physical or mental health conditions.
The majority of staff (85%) had positive experiences with the LifeBio program.
Staff perceptions of the importance of knowing resident's life stories increased.
Disclaimer: The LifeBio Project was funded by the Ohio Department of Medicaid and administered by the Ohio Colleges of Medicine Government Resource Center. The views expressed herein are solely those of the publishers and authors and do not represent the views of the state of Ohio or federal Medicaid programs. The study was conducted by the Benjamin Rose Institute on Aging. Publication is forthcoming.
Here are some reactions to college students who participated in our LifeBio Project in Ohio.
"Elsie was blind, but she kept telling me how handsome I was! She liked the sound of my voice and the sound of laugh (glowing from ear to ear). It was truly inspirational. I met a person whose story is closer to the end (of life), and I am closer to the beginning. It was something that not a lot of people get to experience." - Evan (College Student Intern)
"I had a wonderful time interviewing this sweet lady. She just so loves telling her story. Just about how wonderful her childhood was. She would give her lunch to a boy who had no lunch. She grew up in the Great Depression. She cared about other people and her church. It made me think about what I am thankful for in my life. It was just a cool experience and I would definitely do it again." – Rachel (College Student Intern)
"When I got here, I was introduced to a man who was very quiet with head to the ground. The nurses said he would not be up to speaking with me. I tried anyway, and we had a good conversation. We talked for 45 minutes or an hour. He was an Army veteran. He told me about his biggest regrets; he lost a real estate company. He told me about his wife and sons. Overall, we had a good conversation and that all happened from a man who seemingly didn't want to speak to anyone." – Nora (College Student Intern)
Increasing Quality of Care, Making Delivering Care More Enjoyable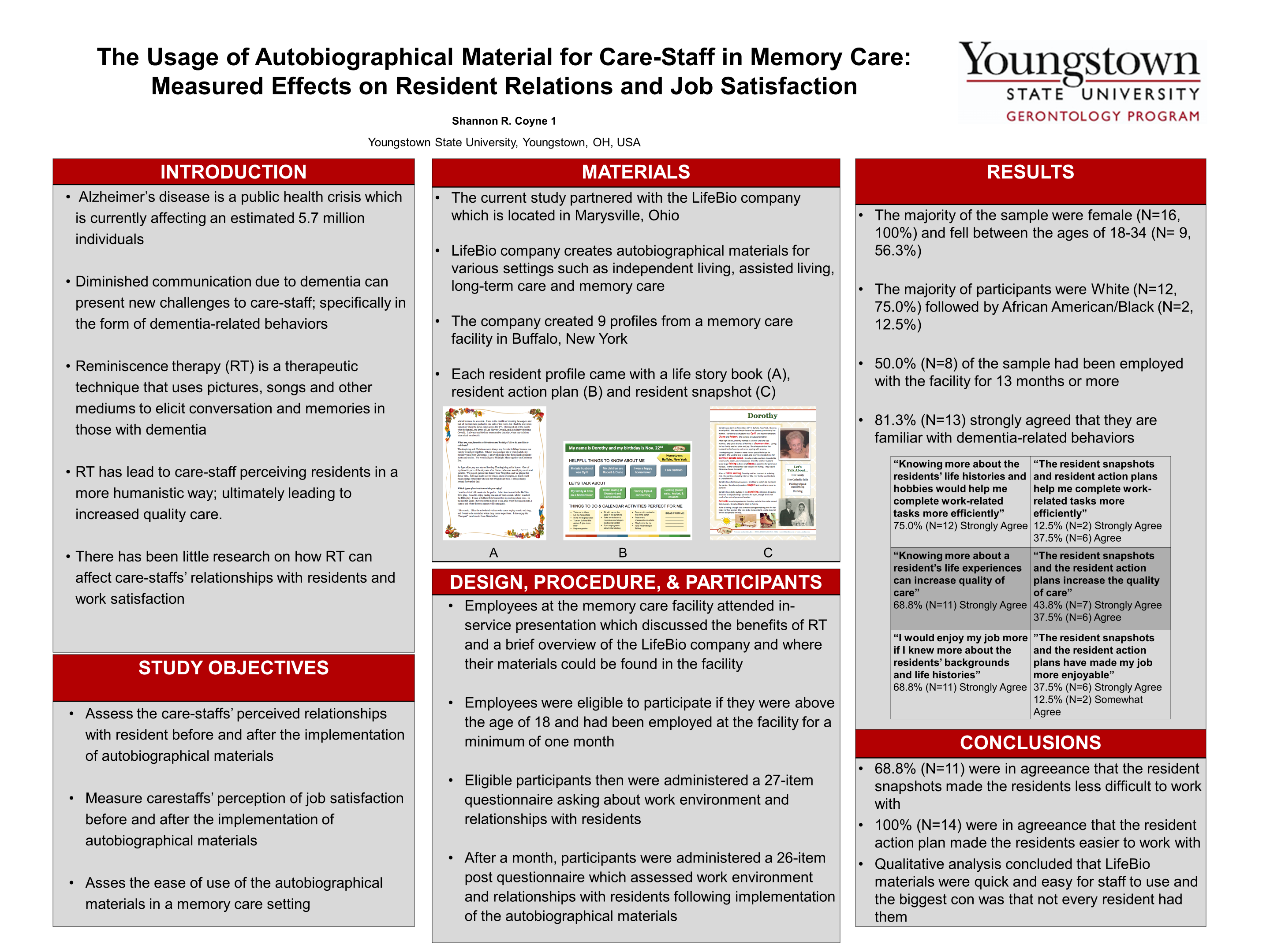 Increased Happiness and Satisfaction with Life
The use of LifeBio was found to result in a statistically significant increase in happiness and satisfaction with life for people over age 65. This study was done in a GROUP of seniors who were engaging with each other to communicate their stories together with the research done by Iowa State University.

Happiness and Satisfaction with Life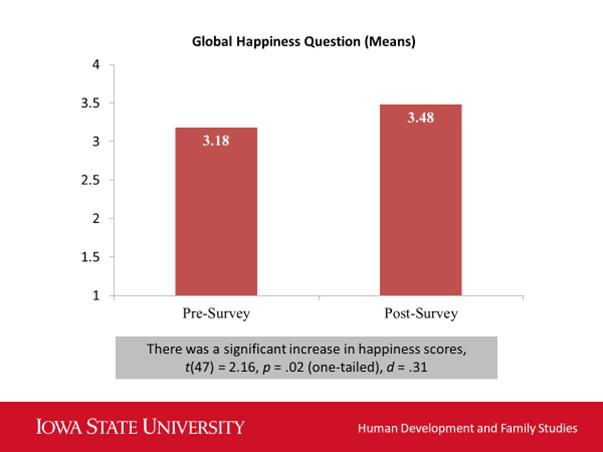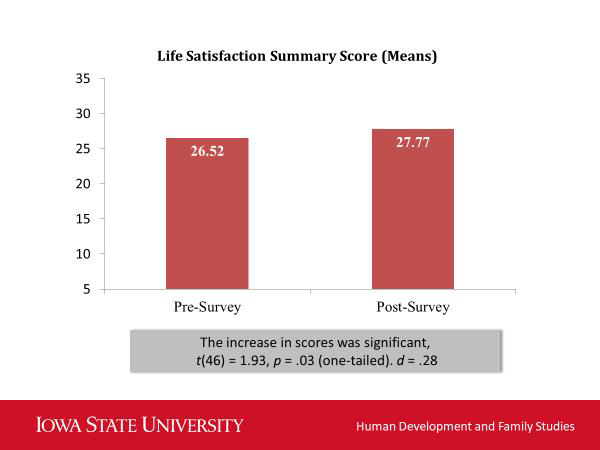 Mayo Clinic
LifeBio has been used in a program for individuals with MCI (mild cognitive impairment) and their care partners (HABIT: Healthy Action to Benefit Independence & Thinking®). The book is used during the Support Group hour of the program with those with MCI as a therapeutic tool. Reminiscence helps provide the group members with a sense of success, a way to bond with each other, and a chance to rehearse and reinforce their most precious memories during a time of episodic memory loss. Reminiscence provides a tool to allow for success and meaningful interaction, something that is often sorely needed.
For additional Research Information, click here.