Music Therapy and LifeBio Reminiscence Therapy - A Lovely Pairing!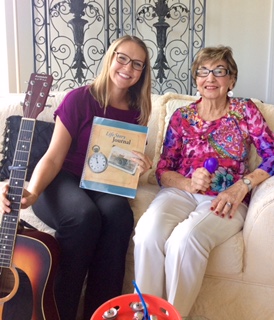 Board Certified Music Therapist Natalie Spencer uses the
LifeBio Story Journal
in sessions with her students to connect on a deeper level.
Today's story comes to us courtesy of Board Certified Music Therapist Natalie Spencer of Moorings Park.  Natalie found that she was having challenges coming up with ideas to stimulate meaningful conversation with some of her participants during their sessions.  She mentioned this to the Director of Wellness, Celeste Lynch, who suggested that Natalie consider using the LifeBio Reminiscence Therapy program with her Music Therapy sessions. 
Natalie shares…  "LifeBio and Music Therapy have been a lovely pairing!  Together, LifeBio and Music Therapy are not only providing needed cognitive stimulation and healthy socialization opportunities, but also allowing opportunities for success and pride in accomplishments.  Using the music to validate shared memories and experiences has proven to be really poignant. Sometimes hearing an 'old song' will elicit memories that the person hasn't thought of or had the chance to share for a long time.

The way that the LifeBio booklet is laid out makes life review and reminiscence very straight-forward and simple, which pairs quite well with Music Therapy for cognitive stimulation and maintenance of memory. I have started using the LifeBio booklet with three independent living residents at Moorings Park so far and everyone seems to be enjoying the process! I think it will be an extra special treat once we finish our sessions and they are able to have a finished copy of their life story; it's a beautiful way to validate experiences, and adding the music for additional stimulation and support has worked beautifully!"

Recently, Natalie worked with resident Rose L.  Here is her story:

"My name is Rose. I am the very loving daughter in a close-knit Italian family from Massachusetts. My father bravely moved to America when he was 17 to seek a better life and eventually became a landlord and a tailor.  After the tragic and unexpected death of my mother while I was a teen, my father and I relied on each other to find comfort, and to learn how to cook and maintain the household for ourselves.  I met my husband (with whom my father was very pleased!), and we are still married to this day.


Rose and her husband on their wedding day.

We are now the proud parents of two sons, and the proud grandparents of two grandsons.  These days my husband and I reside in Naples, Florida, where we are both happily involved in many exercise-based and social events – including the Music Therapy program led by Natalie Spencer!"  -- Rose L.

WOW!  We here at LifeBio are so honored and humbled every day as we help people tell their stories.  It is such a privilege to us to help both individuals and communities SHARE WHAT MATTERS MOST.


Are you ready to tell YOUR story?

  Interested in learning more about using LifeBio for your family or in a community setting?  Contact us! 
#LifeBio #MooringsPark #MusicTherapy #RealStoriesofAmerica #sharewithus #lifebiostories #music #story #ShareWhatMatters #ReminiscenceTherapy #RT