Reminiscence Therapy- The Treatment of Storytelling
Posted On: 19 January, 2023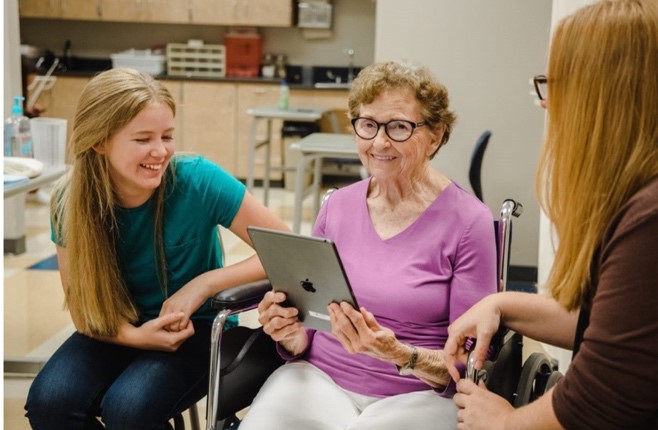 Did you know that you can provide feelings of comfort and safety to a loved one with dementia or other forms of memory loss simply by asking questions or discussing things about their past? It's called reminiscence therapy, and it's easy and effective!
What is Reminiscence Therapy?
Reminiscence therapy is a non-pharmaceutical treatment that uses the five senses (sight, touch, taste, smell, and sound) to help individuals remember events, people, and more from their past. Objects may also be used to help with recall.
While reminiscence therapy is typically used to help people living with dementia, anyone can benefit from it. Short-term memories commonly deteriorate first in those with dementia, creating upsetting moments and stress when something cannot be remembered. By stimulating long-term memories with reminiscence therapy, they are reminded of stories and experiences from the past, which may help people living with dementia become more relaxed and comforted.
This may help people living with dementia to gain feelings of happiness and to enjoy the time together with you, while having an opportunity to talk about memories of importance. Additionally, it may provide relief from boredom and depression while preserving family stories for future generations.
How it Works
Reminiscence therapy uses prompts to encourage a person to recall their memories. These prompts are strategically broad so the person can share whatever they wish about the subject as they remember it. One memory or story may lead to another, creating a chain reaction. Reminiscence therapy does not focus on the accuracy of the memories, but rather the sharing of them. For example, someone with dementia may not be able to remember an exact recipe with measurements and steps, but they will remember enjoying the taste, who taught them how to make it, and how it made them feel when shared around the dinner table. 
Having photos related to the subject or topic is helpful, but sharing stories works best for bringing other memories to mind. When someone speaks of their childhood, the listener may have similar memories come to mind, too. Sharing and reminiscing together may help people living with forms of dementia to listen and think of their own memories in a less stressful and more comfortable environment. Keep in mind that simple, short sentences and questions are best for people living with dementia. Staying on one topic in one sitting may help, too.
Reminiscing may often be done with minimal prompting, like simple questions, allowing the person to guide the conversation. Reminiscence therapy is enhanced by looking at memorabilia like photos, keepsakes, antiques, old newspapers, songs, movies or shows, food from favorite recipes, etc. Anything from the past of the person that uses one (or preferably more) of the five senses helps to start the walk down memory lane.
How does LifeBio use Reminiscence Therapy?
Here at LifeBio, we work to stimulate mental wellbeing in a variety of interactive ways. We use technology to record the memories of your loved ones who live at home. We also help residents of assisted living, memory care, nursing homes, or other senior living communities.  We help preserve the memories and stories of your loved ones, which promotes feelings of comfort and happiness. Our reminiscence therapy approach uses intriguing, research-based prompts to provoke engaging stories and key memories.
Our reminiscence therapy approach is accessible through our LifeBio Memory app. It audio records answers to intriguing prompts. From there, the recordings are stored in our HIPAA-compliant storage cloud, where you can access and play them back at any time! You can click the logos below to download our app on the Apple App Store and Google Play Store, respectively. 
For those who prefer a less technological approach, we also offer guided journals that contain life story prompts. If you would prefer to have a conversation instead of recording memories, our What's Your Story? cards provide easy conversation starters. For more options, visit our shop.
Let's see how LifeBio can assist you and your loved ones in finding which Reminiscence Therapy approaches and materials can best serve you today. Click here to check us out online, email info@lifebio.com, or call 1-866-LIFEBIO (1-866-543-3246).
Sources:
https://www.lifebio.org/health-care-senior-living/research 
https://eldercarealliance.org/blog/benefits-reminiscence-therapy/
https://dailycaring.com/4-ways-reminiscence-therapy-for-dementia-brings-joy-to-seniors/