6 Ways to Help Older Adults
Posted By: Beth Sanders and Emily Shar | Posted On: 15 February, 2023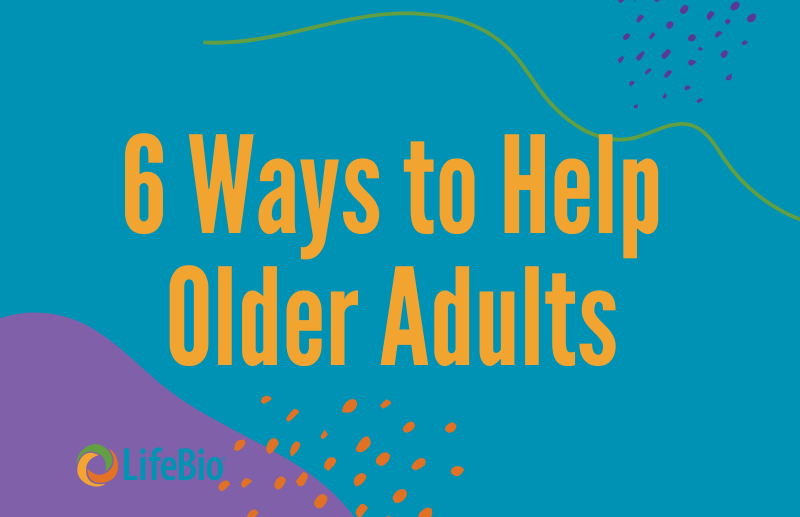 The cold, short days of winter can feel isolating to the older adults around us. Here are 6 ways you can help the older adults in your life combat loneliness.
The last three months of the year are packed with holidays, but by January or February, some of our older family members may be left with colder weather, shorter days, and post-holiday blues. While the rest of us go back to school and work, our grandparents and other senior loved ones could be feeling lonely in their homes or care communities. Senior loved ones may be more prone to social isolation, which is a risk factor for depression. The good news is that there is something we can do to help this. 
Visit  
Everyone gets lonely from time to time (no matter your age), so popping in to visit older adults (perhaps a family member or a neighbor) helps them greatly, and can help you, too! Younger people gain so much during time spent with older people.  Many seek out life advice, hear stories from the past, learn new facts and skills, and more. If you're nervous about striking up a conversation, check out our What's Your Story? conversation starter cards. 
Create something together 
Small or short projects can help you and your older adult friend or family member. Try picking up crafts from craft stores, asking for help with sewing, getting adult coloring pages and colored pencils or markers, or playing a fill-in-the-word game. Note that you should take into consideration a person's mobility, verbal, and fine motor skills when picking an activity. 
Get movin'! 
Getting out and moving around is great for you and your loved one! Try taking a short walk around the block or on a local walking trail. If your senior friend or family member has low mobility, use a wheelchair or a walker if needed. You both will still get enjoyment out of getting out and having a great time in conversation. Indoor walks are great, too, at one of your favorite stores or a local mall.  
Find joy in the ordinary 
Going for a ride in the car and doing mundane tasks and chores gives you both companionship and prevents both of you from being lonely at the grocery store! Bonus: sometimes you'll get great advice for recipes and easy meals! 
Reach out by phone 
Do they live farther than you'd like to travel all the time? Call them! Your older adult friend or family member would love to talk to you on the phone. Tell them how your day is going, update them on your life and latest projects you've been working on, and ask them for advice! People with lots of life experience usually love to share what they've learned.  
Interview them with LifeBio Memory 
Here at LifeBio, we offer interventions that could help ease your stress and help your older adult friend or family member at the same time! 
LifeBio Memory is our Android and Apple compatible app that gives your older adult family member or friend intriguing prompts that they can answer by recording their voice, giving you both a great conversation starter! With your paid membership, these recordings are stored in our HIPAA-compliant cloud and can be accessed at any time.   
For a less technological approach, LifeBio has options to interview a senior in your life by phone or life story journals that can be written in! Visit our shop here, give us a call at (844)543-2229 or email info@lifebio.com if you'd like to learn more about our various life story options. There is something for everyone! Enjoy the time spent with your loved one!