Social Distancing is Tough. Great Ideas to Stay Engaged and Use Your Free Time Effectively.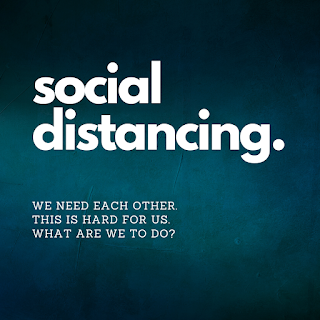 A common phrase amidst the responses to the spreading Coronavirus (Covid-19) is social distancing. This means some schools now have extended spring breaks. Sporting events, concerts, and other activities are canceled. Many public places like libraries, movie theaters, casinos, and churches are temporarily closing. In some places eat-in restaurants are shut down for the time being. People are encouraged to stay home and avoid contact with others, to slow the spread of the contagion.
What are negative effects of social distancing?
This leads some to believe that the Coronavirus may cause a loneliness epidemic. "We need to take both social distancing and the 'social recession' it will cause seriously," states Vox author Ezra Klein. Social isolation is a real threat, as it can carry detrimental effects. Some symptoms may start more mildly, such as with insomnia and tiredness. Isolation may lead some to misuse substances. It can elevate blood pressure. Loneliness can worsen other illnesses and cause unwanted weight loss or gain. Loneliness can also cause mental detriment. Social isolation can increase the chance of developing anxiety, depression, dementia, and other mental illnesses. 
So what are we to do in a time of "Social Distancing" to stay healthy?  Here are some GREAT ideas!   
There are things you can do to stay physically healthy while socially isolated. Some suggestions are the same as what is encouraged even when not isolated—eat a healthy diet and exercise. It is also recommended to get adequate sleep, but not excessively with regularity.
With extended free-time alone, it can be a good time to try out that healthy recipe that sounds delicious. You could attempt a new yoga workout, lift hand weights, or work in the yard. Go to sleep at a reasonable hour or take a nap in the afternoon.
While isolated, keep your mind healthy by thinking positively. Then you might consider learning something new. Study a topic you are interested in or try to master a new skill. You are encouraged to invest more time in your hobbies. Explore your faith more and lean in to your spiritual life to help you through this time. Think outside yourself on how you can call someone or send a card to brighten someone else's day.  Give back in any way you can. 
Focus on the positive. Rejoice in extra free time or bask in a moment of quiet. Enjoy a cup of tea. Use this as the perfect time to take up woodworking. Watch an online tutorial to learn to crochet. Figure out how to play a new game. Then take time to do what you already enjoy doing. Crank up the music on the stereo. Paint. Assemble a puzzle. Tend to your potted plants. Go for a bike ride. Read a book! 
Use isolated time to make yourself proud by tackling the project you have been wanting to do. Or help your loved ones with their honey-do lists. Paint the bedroom. Reorganize the shelves. Clean the windows. Oil the squeaky door hinges.
Perhaps one of the most important suggestions to curb loneliness while isolated is to still interact with others. This may mean face-to-face with family members or close friends. When physical contact is limited, you can still communicate over the telephone and computer.  
How to have meaningful interaction?
Reach out to your loved ones now to ease their isolation. Stop in to visit them if you can. Call them. Video message them online. Then repeat.
Why not use this time to get to know your own family and friends better? Play a game together. Look at family photo albums. Go for a walk. Research your family tree and share stories about your grandparents. Bake Aunt Agnes' cookie recipe. Find your favorite songs online and sing them together. Dance in the kitchen. Have the more in-depth conversation you have been meaning to have.
This time of social isolation could be perfect to ask the questions you have not thought to ask in the past. Ask open-ended (not just yes or no) questions to keep conversation flowing. Make a recording of elderly loved ones telling their life stories to pass on to future generations.
LifeBio recommends trying these conversation starters (whether in person or on the phone):
What is your favorite childhood or school memory?
What have you learned from your work experience?
How did you meet your spouse? When and where did you get married?
Who is someone that impacted your life and how?
What brings you joy and why?
What do you want to pass on to others? (Advice, photos, recipes, belongings?)
Humans are social creatures not meant to always be alone. Eric Carmen knew this when he sang, "All by myself, Don't wanna be, All by myself, Anymore…" Even in the midst of social isolation, let's come together to evade the socialization epidemic.
Then let us know in the comments below how it goes. Or share other great ideas to beat loneliness during isolation.
For help with connecting, reach out to us.
Online at https://www.lifebio.com
Email info@lifebio.com
Telephone 1-866-LIFEBIO (1-866-543-3246) between 9 a.m. and 5 p.m. EST
NOTE:  Does social isolation equate with loneliness?
According to Yolanda Williams, a Psychology and Ethics instructor with a PhD in philosophy, social isolation is having little or no contact with other people, and it usually lasts for extended periods of time. Whereas loneliness is an emotional state where individuals are not satisfied with their social connections, and it can be temporary or last longer. A person who experiences social isolation may or may not also experience loneliness.