MyHello Success Stories

"Hello again, hello. Just called to say hello…
Hello, my friend, hello. Just called to let you know I think about you…
Hello… It's good to need you so. It's good to need you like I do and to feel this way when I hear you say, 'Hello.'"
(From "Hello Again" written by Neil Diamond and Alan Lindgren)
It is natural that occasionally we want to know we are thought of. Sometimes we want to hear that someone cares about us. At times we want to be reminded that we matter. Especially during times of social isolation, feelings of loneliness and depression can creep in on us. During those times in particular, it can be so good to hear from someone checking in with us, just letting us know they are thinking about us and want to hear us say "hello" back.
LifeBio is increasing social connectedness though a loneliness intervention program called MyHello. This can be a lifeline to help people who are alone and facing stress and anxiety. It can include one, two, or three call options: participating in weekly group calls that discuss a different topic each week, engaging in a weekly call with an individually matched partner, and/or receiving a weekly check-in call from a trained MyHello guide.
One MyHello guide said, "People are lonely and isolated. This experience has opened my eyes and ears to what is truly important. I can tell I bring a smile to their faces. Reminiscing and reflecting on their life experiences adds joy to both their day and my day."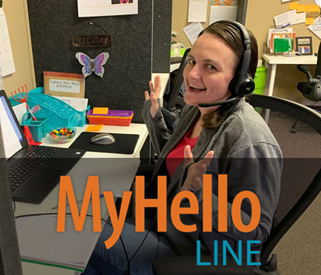 Here are just a few examples of how MyHello calls are helping keep people connected and uplifted.
(**Please note that names have been changed with certain details omitted to protect client confidentiality.**)
Guide Wanda shares:
Helen and I really enjoy our talks. She likes to share with me about where she lives—the activities, what she likes to watch on television, and the things she sees while walking around where she lives. She is concerned by the state of the world and COVID-19, but we try to keep it light and not dwell on those things.
Guide Amy shares:
My calls with Edna have been going great! She told me she just had her birthday and got to have the vanilla ice cream cake she was really wanting. She loves to color and do word searches. She has two dogs at home and is fond of the puppy named Patches. She has three siblings and gets to talk to her brother every Saturday. She would love to get back to going to church soon. Edna is a super sweet lady, and I really enjoy our calls together.
Guide Colleen shares:
On our most recent call, I used some of LifeBio's Capture Your Story questions with my partner, Louisa. I asked about Louisa's father, his job, and what Louisa remembered about him. Louisa reminisced that he was a railroad operator from Germany, who had very muscular arms from frequently using the lever to change the train tracks' direction. We went on to talk about pets, school days, and childhood toys, including a dollhouse that Louisa's father built for her and her sister. By the end of the call, she thanked me for calling, and we had both enjoyed the conversation!
Guide Julie shares:
Leon has been wonderful to talk to! He loves his "science fiction-fact," as he calls it, and has shared many details about Star Trek seasons and actors with me. Later when I look Star Trek information up online to learn more, sure enough Leon was right! I believe I will learn many fun things from these conversations. He is such a pleasure to talk to, and I believe he enjoys our time to simply be able to have someone listen and engage with him in conversation.
Guide Cheralene shares:
My match and I have good, natural conversations. When I talk to Opal, it almost seems like I am talking to my own grandma. Opal told me that she got to go out with her granddaughter to get groceries this week. She is looking forward to celebrating her 75th birthday soon! We started talking about pets, and she said that when her kids were little, their family had a lot of pets. Whenever the pets got sick, they would take them to the vet, so now her kids like to tease her that they are going to take her to the vet! We are a great match, and at the end of the call Opal said, "I really enjoy talking to you."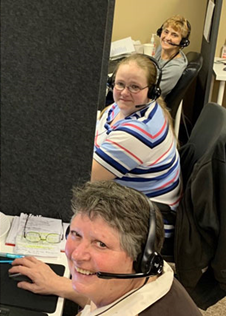 Are you interested in arranging to have a MyHello call each week? To get more information about you, a parent, a grandparent, or another loved one receiving weekly contact, please email us at myhello@lifebio.com, call 1-833-MYHELLO, or visit online at https://www.lifebio.org/myhelloline/.