Autobiography Made Easy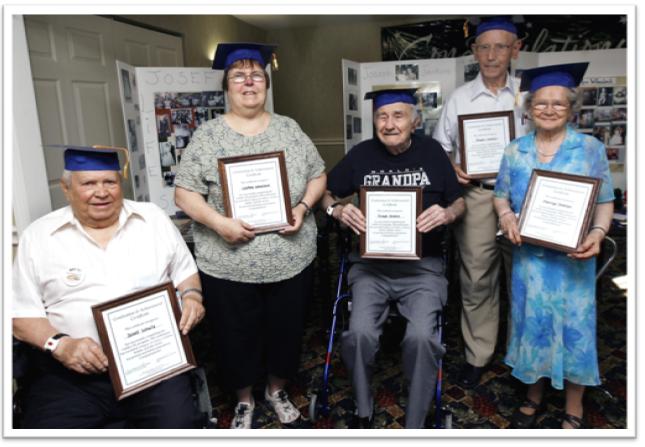 WESTLAND, Mich., May 5, 2010—Sometimes it's tough to know how to start an autobiography, but residents at American House Westland (on Hunter Ave.) have not only started, but finished their biographies using a new group class, journals and storyboards.
Five residents of American House Westland graduated from the LifeBio 101 Class on Friday, April 30, 2010 (pictured to the right, from left to right, Josef Schulz, Lee Ann Wheelock, Joseph Jenkins, Jasper Smelser and Marilyn Smelser). For the last few months, residents have met together weekly to complete reminiscence exercises during class and to recall important details of their lives that deserve to be recorded. Their completed Storyboards, a collection of pictures and memories on a display, were presented at the Story Sharing and Graduation Party with many family members in attendance.


The class has covered the people, history, childhood memories, love, marriage, children, grandchildren, pets, friendship, beliefs, values and much more. Residents have grown closer and forged new friendships and they have realized how unique each life story is. "They have gone through their whole lives, and they have created such beautiful stories to share with their families. It's been an honor to get to know them even better," said Cindy Lear, American House—Westland activity director.

American House has been committed to capturing the life stories of the Greatest Generation and the LifeBio program is helping them accomplish that goal. LifeBio helps thousands of people to capture their life stories through journals, an online template at http://www.lifebio.com/, classes, Storyboards and more. Reminiscence touches all dimensions of wellness and is an excellent form of brain fitness.