Boy Scouts 100th Anniversary
Posted On: 08 February, 2010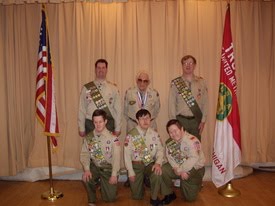 Today marks the 100th anniversary of the Boy Scouts of America! For decades, this organization has worked to develop core values in boys and young men throughout America by promoting character development through community service and leadership.
LifeBio would like to give special recognition to one remarkable Boy Scout advisor and LifeBio client, David Greenspan. In 1927, Mr. Greenspan took the Boy Scout oath, and at age 95, he remembers the day like it was yesterday.

Mr. Greenspan is now blind, but despite his disability, is still a very active volunteer in Boy Scouts. He specializes in mentoring developmentally disabled and mentally challenged scouts, some of whom have been scouting for decades themselves.

LifeBio helps people like Mr. Greenspan tell their stories in a way that will touch the hearts of family, friends and even total strangers for generations to come. In the ten years I've been helping people tell their stories, I continue to be amazed at the depth of knowledge and interesting perspectives that are laying fallow, at risk of being lost forever. Each interview is like an excavating mission.

LifeBio offers different approaches for recording one's life story. Mr. Greenspan's story was recorded using LifeBio's Phone Recording option. Many publish their stories online using the simple publishing template—available at http://www.lifebio.com/—while others use LifeBio's Memory Journal to record their memories by hand in a pre-published book format. Regardless of the LifeBio tool you choose use to record your life story or the life story of loved ones, get started today and begin capturing your personal memories and your family history.

Congratulations David Greenspan as you celebrate the 100th Anniversary of Boy Scouts with scouts across America!