Family Treasures
Posted By: Laura Plaster, LifeBio Writer | Posted On: 15 March, 2022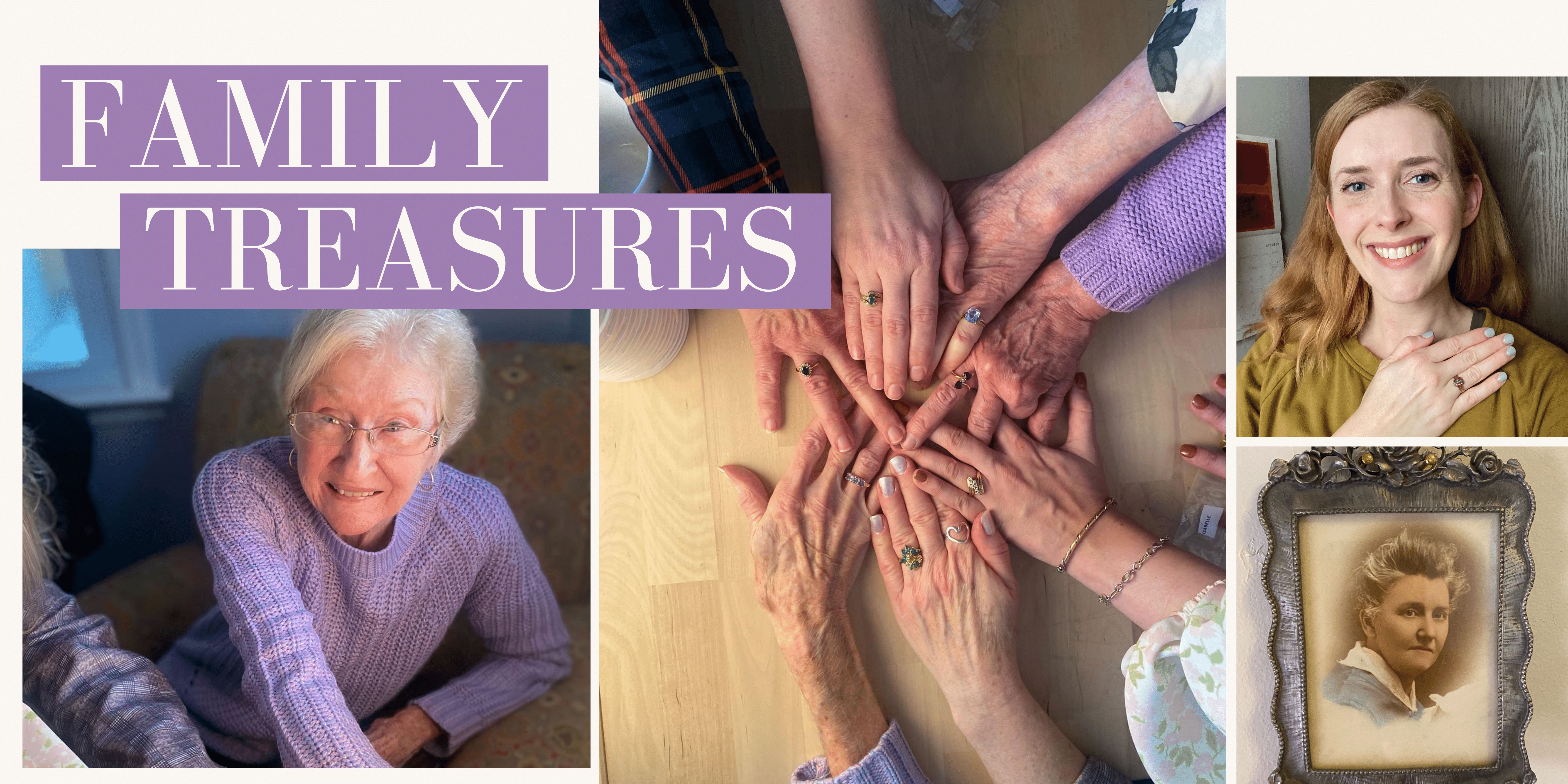 I was recently at a baby shower for my cousin when my Great-Aunt Kaye called all the women of the family to the kitchen. "I have an announcement to make," she said. Aunt Kaye is nearing 90 and so we couldn't help but worry that she planned to tell us something about her health. 
Instead, she pulled out a bag and carefully removed smaller plastic bags from it, each one labeled with one of our names. 
"I decided I wanted to give each of you one of my rings. I've picked one out for everybody."
What followed was a joyous celebration of her generosity and her life as we opened our assigned bag and discovered what she chose for us. An emerald ring for me, aquamarine for my Aunt Mim, a topaz for my mother, small diamonds for my cousin, a claddagh ring for my sister. She told us little details about the rings as we oohed and ahhed and held out our newly-adorned hands to each other to admire. This one was from an old boyfriend; this one she picked up as a souvenir. This one she bought for herself, putting it on layaway and paying it off little by little from her paychecks. 
These rings were her treasures, each one precious to her for its beauty and for what it brought to mind. And now she wanted to share this treasure with us, magnifying her own joy as well as giving us a piece of herself in the form of this small object.
Telling the story of an object can also be a connection point across generations as it helps tell the story of a family in a tangible way. Aunt Kaye had given me a ring once before, close to my wedding day. It was a humble ring, set with small seed pearls and garnets and missing a stone, but I wore it gladly as my something old, because it was the ring my ancestor Alice Logue wore when she emigrated from Donegal, Ireland, to Philadelphia in the late 1800's. Imagining that ring on her finger as she left all that she knew to start a new life, strengthened my own sense of courage and possibility. My ancestors survived hard things and I can too. 

In the end, of course, it's the people we treasure most and not the things. That moment in the kitchen with all the women in my family, that's what I'll treasure. But I'm thankful for the ring on my finger that helps me remember it. And someday, I'll give this ring to my daughter, among some other of my treasures. and tell her about my Great-Aunt Kaye, her ancestor Alice Logue, and all the women in our family who lived through difficult times, but endured, as will she.
--Laura 
________________________________

The Family Treasures in Your Life
The family treasure I was given reminded me how much we love asking people about their prized possessions using the LifeBio Memory app (with voice recording) as it often is a gateway into an incredible story. Learn more about the app.  From the 200+ questions inside, here are a few related to family treasures:
What is the best gift you ever received? Who gave it to you?
Do you collect anything? What's one of your favorites in your collection?
Do you have any family heirlooms?
LifeBio also has a booklet that helps people record thoughts about their precious belongings, The Story of My Treasures. Focusing on various treasures helps someone tell a story they might not have been told otherwise. Who gave it to you? Why have you kept it all these years? What memory or feelings does it bring back? Parents or grandparents who are moving or downsizing can share why it means so much, and younger generations may understand and gain a new sense of appreciation and a legacy too.