Keep Going
Posted By: Beth Sanders, CEO LifeBio | Posted On: 17 January, 2022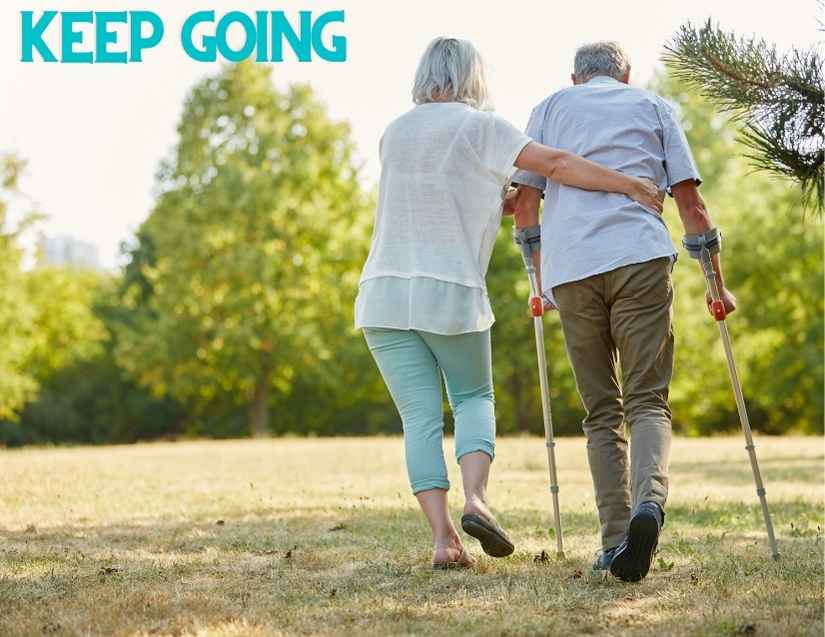 Keep going. Keep going. We've come this far, and there is farther yet to go. We learned so much in 2020 and 2021. If nothing else, the basic human need for connection and community became abundantly clear, as families and friends spent so much time apart trying to keep each other safe. Or one-on-one visits became more of the norm instead of larger groups. 
Where do we find the motivation to keep going, when the going inevitably gets hard? I ask this question of myself, and I ask it to all the caregivers out there who have been working tirelessly to care for loved ones, patients, residents, or clients in the middle of a global pandemic. The answer, in part, lies in how we view the people for whom we are caring.
There is a growing awareness of the importance of "mutuality" in care; that is a feeling of intimacy and positive relationship between caregiver and care receiver. It turns out that those positive feelings are more than nice; they are actually a key variable in both the mental and physical health of the person receiving and the person giving care. Both people experience a reduction in anxiety and depression and improved quality of life when the relationship becomes one of reciprocity.
Caregivers are care partners. If we can reframe care relationships and see them in terms of mutuality, more of a two-way street, it actually improves the relationship for everybody. (To read more about the term "care partner" we recommend this article by dementia care expert Teepa Snow: https://teepasnow.com/blog/caregiver-vs-care-partner-why-you-need-to-know-the-difference/). What we receive from the people in our care is the fuel to keep us going. I know that personally the stories of older Americans who lived through the Great Depression, World War II, the polio epidemic, the Vietnam era, among many other hard moments, have become my inspiration to keep going. These stories show me how. Their resilience and grit help me find my own.
Or take Wanda, a star on our MyHello line. As a Guide (conversation partner), when she first started in early 2020, she wondered how she would have the energy to keep going. She talked to so many lonely people in a week; it was enough to overwhelm anyone. Then, over time, she began to look forward to the calls and miss her clients if they skipped a week. It became a real relationship with give and take and learning on both sides. Instead of wondering where she would get the energy for a call, the call became a source of energy.
That is how Wanda keeps going, and that is how LifeBio wants to empower other care partners to keep going as well. Whether you are a medical professional experiencing clinical burnout, or a family member overwhelmed by your daily routine, the stories of the people in your care can help care for YOU. A moment of genuine connection can shift the entire relationship, infusing it with joy and greater purpose. It can ease what has become tight and provide a solution to the problem of burnout and loneliness for both people in the care relationship. As the studies on mutuality show, it literally leads to better health outcomes. Our tagline—Life Stories for Better Health—is not just a catchy phrase. Narrative care like the LifeBio Memory app and the MyHello line result in better health… for everyone involved.
So, this new year we resolve to keep going. Keep going until caregivers become people who receive care themselves. Keep going to make our narrative interventions the standard of care, so that it becomes normal and ordinary to understand the WHOLE person that is in front of you, taking into account his or her unique background, personality, and preferences. Keep going until the problem of loneliness and social isolation loosens its grip on our society. Thankfully, we have the stories of the men and women who came before us and faced tremendous obstacles and persevered as our fuel. They kept going—and so will we.