Making a Connection from Afar
Posted On: 01 February, 2010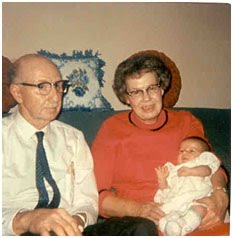 Growing up in Erie, PA, I had a very close-knit family. In fact, I lived right across the street from my grandmother. Despite being a close family (figuratively and literally), at the age of 24, I realized I did not know my grandmother as well as I thought I had. After
an impromptu 90-minute interview, she became much more than grandma to me. She became a real person--who had traveled through different phases of life experiencing joys and challenges along the way. She was a little girl, a teenage basketball player, a college student, a teacher, a mother, and then a grandmother.
(By the way, this is a picture of me in 1969 being held by my grandma. That's my grandpa too.)

Today most kids aren't as fortunate as I was to have grandparents and other extended family living so close by. In our mobile society, many families are spread across states, throughout the country and even overseas. This has got me thinking. If I was able to make a deeper connection with my grandmother who lived across the street, whom I saw nearly every day, what could LifeBio do for those who are separated by geographical distance? What profound impact would it make in the lives of your loved ones to receive the gift of your life stories? Better yet, what an invaluable experience would it be to work on a biography with numerous family members at once? LifeBio's easy-to-use autobiography template lets you do all that, and more. Everyday LifeBio members continue to foster lasting relationships with family and friends—near and far.