Memory Journal: The best memory book
Posted On: 09 August, 2013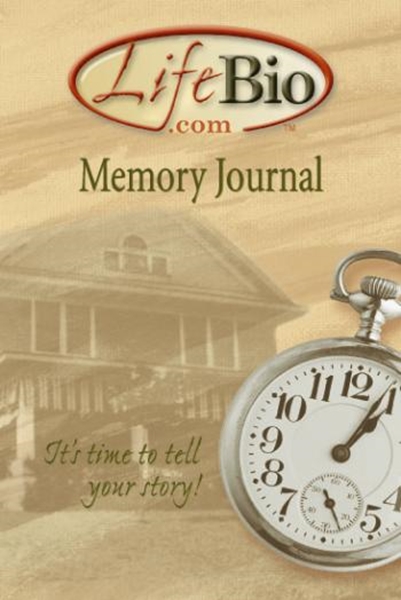 If you are looking for a great memory book to chronicle life stories, look no further than the Memory Journal from LifeBio. 
Would you like to know how to write a biography? 
Would you like to capture family stories and record family values for your children and grandchildren? 
Would you like to take conversation to a whole new level when you visit an older loved one
Would you like to create a biography when someone is in hospice care?
---
"The Memory Journal is the only thing that's bridged the gap between me and my dad in the past 20 years. I never knew how alike we are. It's the only peaceful conversation we've ever had. We're doing it slowly about 30 minutes of questions every time we get together."
-- Jennifer, Marysville, Ohio.
---
6 great reasons to use the Memory Journal
#1  - The Memory Journal is designed to help people of different ages, genders, and backgrounds record their autobiographies or the biographies of a loved one. This book works for parents, grandparents, or singles. If there are a few questions that don't apply, these can easily be left blank.
#2 - The Memory Journal contains 250+ life story questions and ample space to fill-in-the-blanks with your answers. Special care was taken to keep the questions in a logical and easy-to-use format. Topics covered include:
Family History
Mother
Father
Grandparents
Brothers and Sisters
Other Relatives
Historical Events
Growing Up
Childhood and Teen
Favorites Family Fun, Vacations, Celebrations
Place of Worship and Faith
Elementary School Years
Junior High/High School
Military Service
Advanced Training and College
Jobs and Careers
Love
Marriage
Home
Children and Parenthood
Grandchildren and Becoming a Grandparent
Everyday Moments
Pets
Family Stories and Heirlooms
Beliefs
Opinions and Tough Questions
Life Lessons Through the Years
The Future
#3  - The Memory Journal's questions match the ordering of questions at www.LifeBio.com. That means that you or your family could decide to transfer answers from the book to the web to make multiple copies of the story for family and friends, now or in the future!
#4 - Perfect for the person who would rather write than type (or for people without a computer).
#5 - Take it anywhere--no computer with internet access required.
#6 - The LifeBio Memory Journal also works well as a first draft. Ideas from the LifeBio Memory Journal can be transferred to an online LifeBio (www.lifebio.com)  and, finally, into the LifeBio Legacy Book.