My Biography and Your Biography
Posted On: 18 November, 2014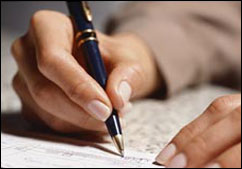 Are you considering writing a biography? If sometimes people tell you, "you should write a book" then it's probably true.  You SHOULD write a book.  Most people don't know where to start, but they do definitely have something to say.  So where to begin? 
I usually recommend starting with the people in your life. Describe your parents and your grandparents. Remind yourself of the fun things you and your siblings did as children. Remember your favorite aunts and uncles and maybe even a few that weren't your favorites.
Next, I think it is interesting to go back in time in your mind to childhood and your teenage years. What were your favorites back then? What was a summer day like? Who was your best friend and what adventures did you have? And that's just the beginning. The younger generations in your family will find this information fascinating -- impress your kids and grandkids by the simple but fun ways you spent your time as a child.
The adulthood years make for a roller coaster ride of a life story sometimes.  It boggles my mind the things that people live through and somehow survive.  Talk about your jobs through the years or how you met your spouse.  Cover the tons of memories you have of time spent with your children and then your grandchildren.   And that's just the beginning....
Finally, get into the deeper beliefs, values, and life lessons that have made you who you are today.  Life is not easy, but it is also full of incredible joy too at times.  So balance it out.  Share the good times and the bad times.  Express your hopes and wishes for the next generation.  Most of all, tell them you love them.  That's what they want to have recorded for all time.

If you need any assistance with writing your own life story or interviewing a loved one with an organized web template of biography questions (based on what was outlined above), please visit www.lifebio.com.  The website has memberships for building your biography, but there is also the Memory Journal if you'd rather write than type your life story. 

Don't delay or the priceless gift of life stories could be lost or forgotten---don't you wish you had the life story written of some of your relatives from 50 years ago or 100 years ago or 200 years ago?!  

It all starts with YOUR story and your family stories.   Now is the day to begin! 

1-866-LIFEBIO or info@lifebio.com for more details.