What's Your Story? Let's Talk Thursdays at 11 a.m.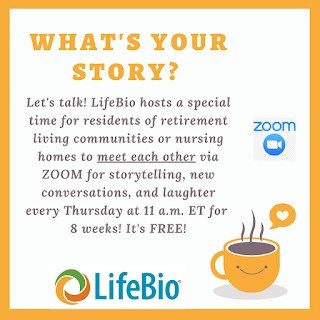 FREE "What's Your Story?" Group
Topic: HISTORICAL EVENTS (week 4 of 8) 
Join us! LifeBio is offering a free "What's Your Story?" conversation group with residents (and staff and family members) of retirement communities and nursing homes from coast to coast. Thursdays at 11 a.m. ET.  (5/14/2020 - June 11, 2020)
ALL ARE WELCOME! Our previous calls included people ages 6 to 85+ participating (and one dog!). All people need is a PHONE to participate or they can ZOOM with video if they prefer.
"What's Your Story?" continues this week with people sharing the impact of HISTORICAL EVENTS with each other. This group lasts until Thursday, June 1st--
so mark your calendar! Multiple people will have a chance to share LIVE with the group.
We know that incredible stories, memories, and experiences will be shared. You can just sit back and listen or say what's on your mind.
CALL IN by phone or ZOOM IN with video. Social engagement is so important at this time for ALL of us. Receive the invitation (it's the same link/phone number each week) with all the details by emailing info@lifebio.com or just reply to this email. Grab a cup of coffee and join us!
Let's meet for storytelling, new conversations, and laughter!