A Career Change - After 20 Years of Nursing!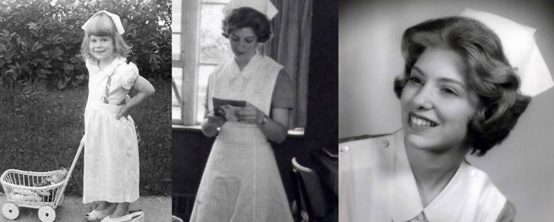 As a child, I vacillated between wanting to be a teacher like my grandmother and wanting to be a nurse because of the cool uniforms. Nursing won out after I read the Sue Barton and Cherry Ames novels.
One story my Dad would tell about me was how he changed the ending when he read me a short biography of Edith Cavell. She was a British nurse in World War I who was captured by the Germans, accused of spying, and executed by firing squad. However, because that idea would have been very upsetting to me at the tender age of six or seven, he changed the ending and told me that the Germans shot Edith in the foot. I was in college, studying the history of nursing, when it dawned on me that the Germans certainly did not shoot poor Edith in the foot!
I went to Evansville College (University of Evansville by the time I graduated) because they had a four-year nursing program leading to a Bachelor of Science degree. This program, unlike many other collegiate nursing programs, offered quite a bit of actual clinical experience. I found that I didn't really like hospital nursing very much and was thrilled when I took Community Health Nursing in my senior year. I much preferred the idea of being out in the "real world" of people's homes, schools, and communities.
Thus, my nursing career was spent in public health nursing or what is now called home health nursing. Public health nursing included school nursing in public and private schools, health screenings, and well-baby clinics.
After grad school, I worked for two years teaching, and then I got a job at the VNA (Visiting Nurse Association) of Chicago as an assistant supervisor, and, after about six months, I became a supervisor at a district office on the Northwest side of Chicago. I was "kicked upstairs" to the central office when my office was closed in a consolidation move. In my new position, I reorganized the central intake group and then got assigned to start private duty services (mostly home helpers and aides).
Feeling burnt out after spending twenty years in nursing, I read an article one Sunday in the Chicago Tribune about a new certificate program in "technical writing" that was starting at the Illinois Institute of Technology. The description of what technical writers did sounded right up my alley. I had discovered that I really enjoyed writing the documents other people hated to write: instructions, orientation manuals, job descriptions. I liked any kind of business writing.
I applied and was accepted to the one-year program and never looked back. It was the best career decision I could have made. Quite a few of the students in the tech writing program were coming from other careers–English teachers, occupational therapists, nurses, etc., and we were mostly all middle-aged. I loved the classes!
My advice would be to learn everything you can from whatever jobs you have. Keep at it until you discover what you love to do and do that. If what you love doing changes, then go ahead and make a change. Take opportunities when you see them. Don't be afraid to try something new, even if it seems unrelated to your education or the first career choice you make.
People used to ask me: "Don't you miss being a nurse?" My answer was always, "No." I learned many things being a nurse, but I did not miss it. I loved my second career because, at the time I made the change, it was a better fit for me."
Kate C., Illinois
‪#‎nursing‬ ‪#‎nevertoolate‬ ‪#‎VNA‬ ‪#‎homehealth‬ ‪#‎nurse‬ ‪#‎technicalwriter‬ ‪#‎technicalwriting‬ ‪#‎publichealth‬‪#‎evansville‬ ‪#‎LifeBio‬ ‪#‎careerchange‬ ‪#‎midlife‬ ‪#‎careeradvice‬
Tell YOUR story at: www.LifeBio.com
LIKE our Facebook page: https://www.facebook.com/LifeBio/