A Lifelong Passion for Cycling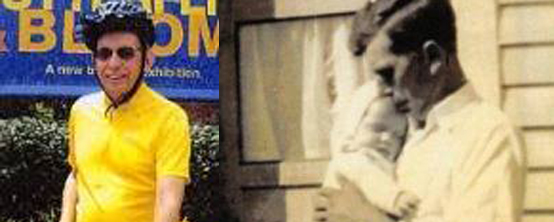 "Biking has long been a favorite hobby of mine. I remember getting my first bike from the Marion Gamble Hardware Store as a birthday gift from my parents when I was in grade school. The picture on the right is of my father holding me when I was just a newborn.
As a child, I would regularly ride the mile to school or to other activities in town. Back then, we could just park our bikes wherever we were without locking them or worrying about having them stolen.
The first bike I remember after I was married was one that I purchased while we were living in Peoria. I enjoyed giving both my kids rides on it around downtown Peoria and along the Illinois River. I would also bike to where I was working in Villa Park, Aurora, and Naperville.
I got more serious about biking when I got a new bike for my 50th birthday and then a better, hybrid bike for my 65th birthday. On my 70th birthday, I graduated to a red road bike, which is my favorite. I did the Apple Cider Century ride in Three Oaks, Michigan, riding 50 miles, in 2002, '03, '04, and '05. My wife and daughter would go with me and use the time to cruise the farmers markets and craft shops for apples and crafts. Those were challenging rides, but I remember them as fun trips!
Then I started doing the closer, Sunrise Rotary Charity rides, starting on 111th Street and riding SW through the country side. I rode between 25 and 40 miles for six years straight from 2004 to 2009, and then again in 2015. I also enjoyed many rides in Door County. My wife, Carol, and I enjoyed riding to some destination, having lunch, and returning home, often 20 miles or more. Another ride that was always fun was biking through Peninsula Park, which I did several times with friends.
To this day, I like to bike daily, weather permitting. I also participate in a local Bike Club and ride with them on Mondays and Fridays at 8:30 am.
The odometer on my red bike shows over 8,000 miles, and I think there are more miles that weren't recorded! I often say I do some of my best thinking while riding. Riding seems to help me relax and clear my mind. I get out most days in the summer and feel better when I do."
Duane M., Naperville, IL
‪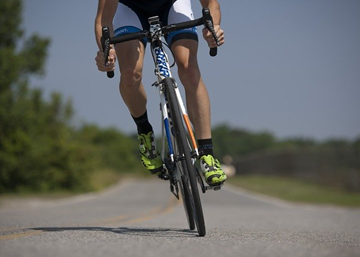 Tell YOUR story at: www.LifeBio.com, email info@lifebio.com with questions, or call 1-866-LIFEBIO.
Sign up for our emails: https://lifebio.org/email-subscribe/
LIKE our Facebook page: https://www.facebook.com/LifeBio/
Follow us on Instagram: https://instagram.com/lifebiostories
Follow us on Twitter: https://twitter.com/LifeBio 
Connect with us on LinkedIn: https://www.linkedin.com/company/lifebio/