A Tribute to Mothers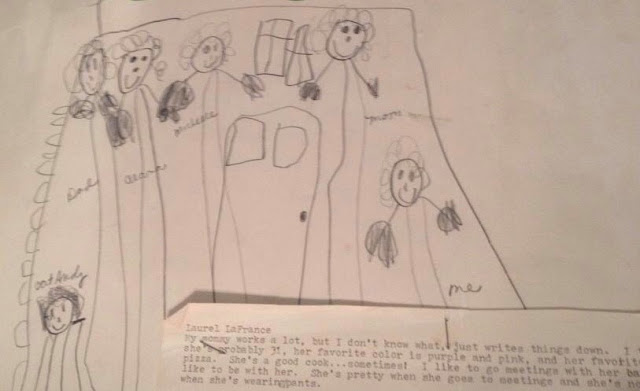 As a four-year-old, when interviewed by my preschool teacher, this is how I described my mother:
My mommy works a lot, but I don't know what. She just writes things down. I think she's probably 31. Her favorite color is purple and pink, and her favorite food is pizza. She's a good cook… sometimes! I like to go to meetings with her because I like to be with her. She's pretty when she goes to meetings, and she's not pretty when she's wearing pants.
[As an aside to my mother: Your daughter, who is now the same age that you actually were when she said this, who likes to wear pants approximately 365 days of the year, whose husband would say she is also a good cook (sometimes!), would like to apologize for her naivety and judgments. On the flip-side, you are welcome that she shaved nearly a decade off your age. She is glad that 36 years later she still likes to be with you!]
~ ~ ~ ~ ~ ~ ~ ~ ~ ~
While my preschool teacher was able to document my stream-of-consciousness babbling, as we get older it may be harder for us to put our own thoughts into words. It might be a challenge to organize our feelings or know where to start. If you were asked today to describe your mother, where would you begin?
Would you get sentimental thinking of the woman who carried you for nine months and then changed your diapers and bathed you? Would you start with childhood memories of how she helped you get dressed, fed you, and took you everywhere you needed to go? Would you talk about how she played with you or read stories to you, instilling your love for reading?
Instead of starting with your childhood, would you describe your mother's personality? Would you more matter-of-factly talk about her, sharing about her family growing up or her professions in adulthood? Would you quote things she has been known to say repeatedly? Would you share a favorite memory you have of her?
Would you focus on writing through the senses? Would you describe her appearance? Would you recall her favorite perfume and smells? Would you write about the songs she used to sing to you? Would you share the recipes she cooked and baked for your family? Would you include pictures or artwork of her?
Might you take a different approach, looking back at things from an adult perspective? Would you describe some of the times she was there to support you or cheer you on? Would you share the lessons that she has taught you and talk about things she has passed down to you? Would you reflect on what you learned from her that you now try to instill in your own children?
~ ~ ~ ~ ~ ~ ~ ~ ~ ~
As an adult, if asked about my mother, I might now say:
My mother is one of the strongest women I know. She has come through loss and hurt like a champion, which allowed her to be there to hold my hand when my best friend passed away in my teenage years. Even now that I am an adult living in a foreign country, I know my mother is always there for me. I am blessed to still have her as my biggest cheerleader in life!
My mother is intelligent, more so than she gives herself credit for, and she reads more than just about anyone I know. I am grateful that she instilled in me a love for learning and striving to find answers, starting with our weekly trips to the library when I was still a baby. While she only taught high school English for a few years prior to starting a family and staying home with her children, she has remained a lifelong educator and learner in other ways. She always pushes herself to learn more, and she loves to share her knowledge with others, such as when she volunteered to tutor immigrants at her community International Center.

A lover of the arts, she is always listening to music, singing, or humming. She taught me to love old musicals with her from a young age, and she supported my sister and me by attending every show choir competition we participated in during high school. She has always had a creative side and appreciated the beauty in life. Even with her appearance, she loves to wear bright colors and unique jewelry. She adds to the beauty of the earth through her garden and potted plants.
My mother has a generous and loving heart for service, which allows her to connect with a great diversity of people. When others might overlook a person, she will often take the time to have a conversation and get to know them. Without ever directly telling me how, her actions helped teach me many of the traits and skills I needed when I served three years as a missionary in an orphanage. My mom is typically slow to judge and quicker to defend people. She is a Christian woman and leads by quiet example, as she is humble. Over the years her patience has grown, and she often makes sacrifices, which allow others to flourish. It was more important to her to help provide for her children's education or donate to worthy causes, before she would consider planning something like going on an extravagant vacation. She has said that if she ever won a large sum of money, some of her first considerations would be starting scholarships or a non-profit organization to help others.
I wish that my mother could see herself through the eyes of her family members and not judge herself as critically. She would see the woman we love so fiercely. She would see that she is more than enough. She would see the beauty we see in her. She would know the respect and admiration we hold so deeply for her. She would know that she gives some of the world's best hugs, and that her advice is appreciated. She would know that, even when we don't get to talk every day, she is thought of and missed. She would have confidence in seeing her true value and worth. She would see why I wish I could one day become even half the mother that she has been to me.
This May give the gift of making your mother's story a legacy!
At LifeBio, we would love to help you write about your mom, in whatever style best suits you. You can select from one of our many online templates to guide you. Or over the phone we can help record and tell your shared story. Or we can aid your mom in telling her autobiography. We have some journals and other creative Mother's Day gifts available. Check us out and let us know how we can serve you today! You can find us online at https://www.lifebio.org/, via email at info@lifebio.com, or via telephone at 1-866-LIFEBIO (1-866-543-3246).