A Winter Love Story - Rollie & Penny
Posted On: 21 December, 2021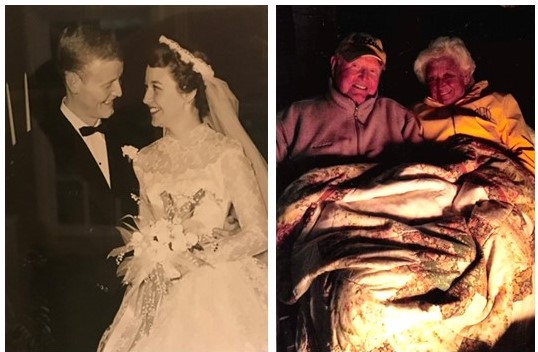 Penny: During my sophomore year at Ohio State, I lived in the sorority house where Rollie was the busboy. It was love at first sight. Rollie and I did a lot of coffee dates since Rollie didn't have much money. When he wasn't working in the evenings, we went for coffee. Rarely did we go out and have anything to eat because that was not in the budget.
With his jobs, Rollie knew downtown Columbus well. The Seneca Hotel had a band that did not have a cover charge, so you could listen to the music and dance, buy one drink, and sit for the whole evening. I think the drinks were about 50 cents each so, instead of coffee, Rollie stepped up his game! They played typical music for the 1950s, and the music was danceable for us.
Rollie: When I met Penny, it was love at first sight for me. I was a table waiter at her sorority. I told my best friend we were going to get married. My mother and aunts did not want me to get married and not finish school. I promised I would finish school at Ohio State, and I did. Penny and I were married on a nice December day—December 17, 1955. We have now been married for 66 years! Another couple was getting married on the same day, so we shared the flowers at the church. We had a reception in the church basement, and it wasn't fancy. We were married at Indianola Presbyterian Church, which was by the sorority house, even though we were both Episcopalians.
After graduation, I went to Erie, Pennsylvania to work at General Electric, and Penny joined me there after we were wed in December 1955. Our rent was only $65 a month in one of the nearby row houses. I couldn't figure out why in Erie people had different colored squirrel tails attached to their car radio antennas, but I soon learned that's how people identified their car after it was covered with snow in the GE parking lot! I didn't have anything on mine, so I had to walk home and back to work in the snow a few times, until it got shoveled off and I could find my car again. 
Penny and Rollie: Our daughter asked how we stayed together all these years. We are not TV people, so we are always talking. Regardless of how long we have been together, we still just talk. We both grew up with parents who disagreed a lot, and there was a lot of fighting. We decided that is not the way we wish to live, and we always said that if we can't get along, we would call it quits. We don't always agree, but it never gets like what we grew up with. Before you get married, make sure that person is your best friend. Your spouse had better be your best friend so you can sit and talk to them and enjoy it, like we do. We said from the beginning there would be no arguments because it isn't worth it. We were also very lucky we both had the same goals.
The best part of our day is having coffee together in the morning. We sit on the porch when the weather is nice and visit with each other. Rollie sits on the porch swing and drinks his big mug of coffee. We love spending all day visiting with each other.