"I Want to Get to Heaven Half an Hour Before the Devil Knows I'm There!"
Posted On: 30 January, 2019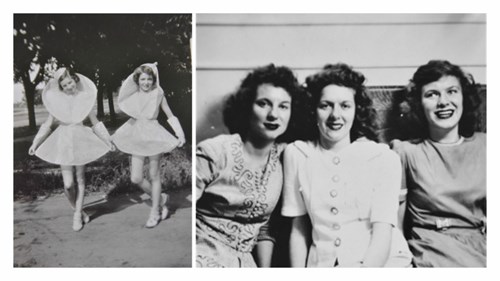 My brother-in-law used to say that I reminded him of Lucille Ball. He said I always looked like I was up to something – and I often was! I am still a very positive person...
My name is Catherine, but I go by "Cappy." The first photo is me (on the left) and my sister, Jani. In the second picture, I am again on the left side, with sisters Jani and Thalia, taken while we were working in Washington, D.C.
My mother was from Abilene, Kansas, and my father was from Solomon, Kansas. My mother, Mabel, went to school with President Eisenhower and his younger brother all the way through high school. I grew up with eight siblings, and I am the third from the youngest. We were a good Irish Catholic family! Mother taught us to be proud, positive, and to have a good sense of humor in both good times and bad. She loved having such a large family, since she was an only child and had always wanted a big family.
We lived in Solomon, which is a very small town. Our father was a farmer. We all got along and had a lot of fun together. We were extremely close. Our family is known for our sense of humor, and we often played practical jokes on each other. We also played a lot of cards with each other and our parents. I left Kansas in my late teens. Three of my sisters and I all took jobs in Washington, D.C. during World War II. I was a secretary for Senator Carl Hayden from Arizona. He went on to become the first United Sates Senator to serve seven terms.
I married my husband, Chuck, in 1944, in a small, wartime wedding. It was just us and friends in Abilene, Kansas. He was from Pennsylvania and was in the Army when we met. I worked in Washington, D.C., throughout the war years, so we met there. I thought he was wonderful, and the most handsome man in the world. He had the most beautiful sky blue eyes! I can truly say he was the love of my life.
My brother-in-law used to say that I reminded him of Lucille Ball. He said I always looked like I was up to something – and I often was! I am still very positive. Life is what it is, and I am where I am. What can you do? I'm just going to keep that twinkle in my eye and keep on smiling. As the old Irish saying goes, "I want to get to heaven half an hour before the Devil knows I am there!"
"Cappy" C. – Florida
Be sure to LIKE our Facebook page:  https://www.facebook.com/LifeBio/
#LifeBioStories #RealStoriesofAmerica #ShareWithUs John Knox Village
Share what matters most – share YOUR story! 
Contact www.LifeBio.com or call 1-866-543-3246