LifeBio Question of the Month for January 2015: Describe your childhood home, inside and outside.
Posted On: 18 January, 2015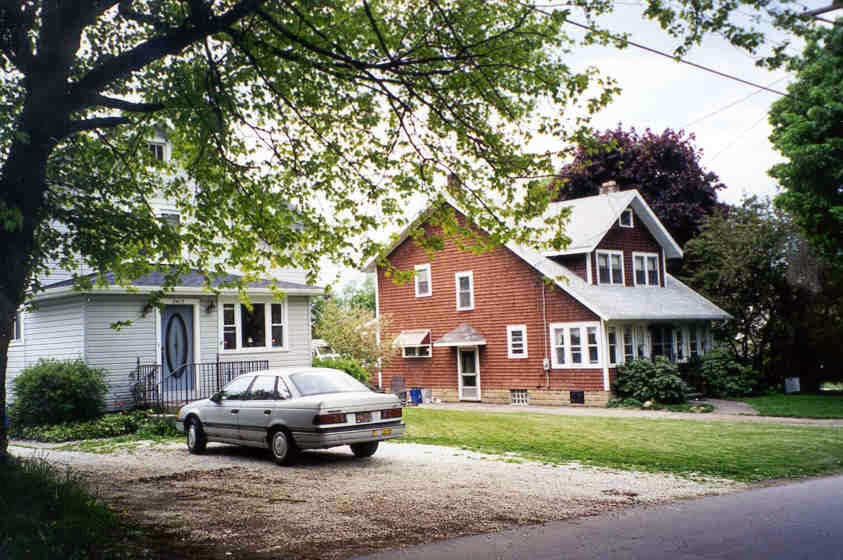 This is how the house looks today (and our family doesn't live there anymore).
The gray house on the left. The sunporch is now enclosed.
Here's my answer to this LifeBio question--I hope you enjoy answering it too.  There are plenty more where this one comes from--just visit www.lifebio.com and get started.  You'll be surprised where your memories go as you open your mind and begin remembering.
I most fondly remember a gray house we lived in on a quiet street in Erie, PA.  It's funny that I remember that the trim on the windows had been painted a light peach color which always bothered me as I thought it should be white trim.  Other than that, I liked this big, old, two-story house. 

It had a wonderful sun porch, and I remember my parents putting an old mattress in there that we just jumped on all winter long as we listened to the Smothers Brothers and South Pacific records.
They let me help pick out the carpet in that house, and, in about 1975, I picked out a green and yellow shaggy carpet that I thought was just wonderful.  Looking back, I should ask my mom if she liked it as much as I did. The house had those old big, black floor registered which blew out a lot of hot air, and I recall sitting on the register as my dad got ready for work, early in the morning. Warm and comfortable, and the smell and sound of my mother making breakfast was just around the corner.  We were one of the first families I knew to get a microwave oven---and I remember sleeping on the kitchen floor with the flu (waking up occasionally) as my father created a new cupboard for the microwave to fit into our kitchen.  There was a good sized dining room where our big family gathered, and later I helped my dad knock out the dining room wall to install a sliding glass door.  The next step was for us to build a deck, and we used wood from an old factory on 12th Street to build that deck.  I worked out back with my sister one summer to remove all the old nails from just piles and piles of 2 x 6 boards.  The deck was amazing when we got it done, and part of it was built underneath the most perfect, transparent apple tree ever created.  I loved that backyard tree, and I spent hours climbing up it, reading in it, eating from it, and swinging on it. We had a gentle hill through our backyard, and my little purple Schwinn bike with the banana seat could really get rolling down that hill before I reached our neighbors driveway.  Those were the days! 

Start recording your most priceless memories at www.lifebio.com.  We make it easy and fun to share family stories!