"You can do anything by hard work, honesty, and love!"
Posted On: 10 February, 2021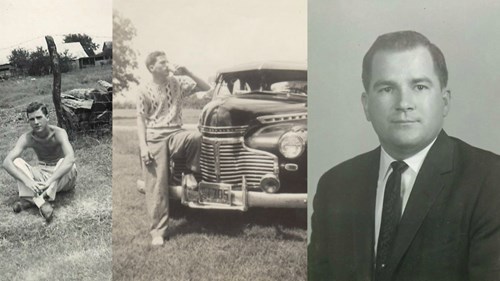 "I've gone from no electricity or running water to knowing how to use Facebook and text on a cell phone!"
My mom didn't know she was having twins. The doctor was at our house when my twin brother and I were born, but mom and dad didn't have any names picked out. So, the doctor went to the County Courthouse in Paris, Texas, and recorded our names as Mikey and Ikey on our birth certificates! I didn't even know that until I was grown in my 30s or 40s and went to the Courthouse to get a copy of my birth certificate!
Most all of my first 17 years growing up were in the country on farms near and around Blossom, Texas.
Blossom is a small community in East Texas. In 1936, there were 858 residents. On the blackland prairie, south of town, where the dirt was black and waxy, cotton was grown. The grade was extra good staple. Cotton wagons lined the yards of the two gins, waiting their turn to have their cotton ginned and packed into bales.
People from Blossom and surrounding areas worked side by side in the cotton fields, picking the fluffy cotton from the bells, and depositing it in cotton sacks that trailed behind them. The sacks often weighed as much as fifty or more pounds on the cotton scales when they were full of cotton. Sometimes the cotton was picked while it was still in the bolls. This was called "pulling bolls."
On the north side of Blossom, where deep rich sand abounded, a different type of farming was taking place. Tomatoes, watermelons, cucumbers and corn were grown here. These were referred to as truck crops. Sheds were built where the tomatoes and cucumbers could be graded and sent to other locations for distribution. One of the tomato sheds is still standing, and is being used as a produce stand. Although truck crops were not grown in as large a quantity as was the cotton on the south side of town, it was none-the-less as tiring a job as was the farming of cotton.
The banks, hotels, mercantile businesses, livery stables, brick plants, bathhouse, colleges, gins, railroad depot, mineral wells, doctors, and most of the beautiful homes have long since disappeared from the landscape of Blossom, but this little city refuses to forget its wonderful past.
My family owned a couple of mules and a wagon, but we mostly walked everywhere. We never owned a telephone while I was growing up. We had no electricity or running water until I was 17 and moved to Lubbock, Texas.
We bathed once a week in a no. 3 washtub and several of us used the same water! We had an outhouse and used the Sears catalog for toilet paper.
For heat, we had a wood stove. Our air conditioner was the wind and shade. We used candles for lights when it was dark.
I was 8 years old when World War II began. One of my cousins was killed on the USS Bunker Hill. We would go around and pick up scrap iron and we could get .10 - .15 cents for it.
During high school, I remember a few times getting .25 cents and on Saturdays, we could see two movies along with a drink and food. The movies were .09 cents each.
In 1950, I signed up for the Navy in Lubbock and they put some of us guys on a train and said they were sending us to San Diego for boot camp. So, I packed clothes for that climate (I was wearing a pair of cowboy boots, a t-shirt, and a jacket.) When the train arrived in Albuquerque, they announced that plans had changed and they were sending us to Illinois! My basic training was HARD! It was in Great Lakes, Illinois (north of Chicago) and I arrived in December to snow covered grounds. We didn't get our clothing issued for about two weeks, and we had to walk from one building to another to eat and "we liked to froze to death!" I was there through March and it snowed and was cold the whole time.
I'd like to say that I've had a wonderful life, good health, a loving mother and father, three brothers and two sisters that I love very much, and two wives (my first wife is deceased), three beautiful daughters, eight grandkids and three step grandkids, and now one great-grandson.
You can do anything you make up your mind to do by hard work, honesty, and love!"
-Clif B., Texas
#LifeBio #lifebiostories #realstoriesofamerica #sharewithus #Texas #Lubbock #Blossom #bootcamp #Navy #memories #WorldWarII #UssBunkerhill #cotton #biography
It's time to tell YOUR story! Contact us at: www.LifeBio.com
1-866-543-3246 (Toll free in the U.S.)