LifeBio Employee Appreciation: Wanda D. – MyHello Guide
Posted By: Laura Plaster, LifeBio Writer | Posted On: 26 January, 2022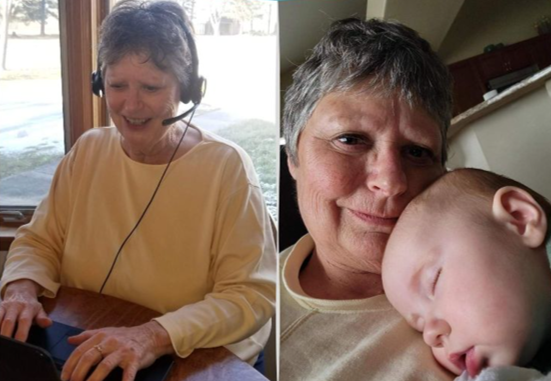 When Wanda was job searching, she got a call at an inopportune time. "I was just released from my doctor after recovery from knee surgery. The call was from LifeBio, and they wanting me to come in to start training. I didn't feel like it physically. I didn't feel up to it mentally. I was home recovering with this pain, and I did not want to do it. But I said to myself, 'I've been looking for a job for two years! I do believe I need to go–whatever it takes to get my body in there.'"
Thankfully for LifeBio, Wanda persevered, and arrived in February 2020, for training for the newly-launched MyHello line, a tech-powered loneliness (SDoH) intervention using any phone. At the time, we were recruiting for a project with a large health plan. Wanda, it turned out, was a natural.
"I had no idea what this job was at first, but I was so pleased to learn what the job entailed. The team and I got started on the calls. I said to myself, 'Hey, I like this, and, hey, I'm good at this!'"
Wanda was also happy to learn that the very thing that made her job hunt so difficult– her age– worked to her advantage in this new job.
"My age helps me connect so much. I feel such empathy for people because I have had these surgeries. Also, I have been through driving restrictions (because of surgery), so I've had to depend on other people to do things for more and get me groceries because I couldn't. Just the living and going through life situations– jobs, kids, parents, caregiving, in-laws, rent, houses, knowing where to find Medicare information. There is always something there that I know a little bit about." Wanda also knows about grandkids. She is loving being a grandma!
Two years later and Wanda is one of our star conversation partners on the MyHello line (and she has been working remotely using the MyHello system since COVID began). Her clients look forward to speaking with her, experiencing true compassion, care, and a genuine laugh. She is ready with a proven, interesting life story topic provided by the MyHello system to engage in new topics of conversation. Sometimes the conversation is light, and they exchange recipes or book recommendations. Sometimes it is heavy, and she does her best to help callers look on the bright side. Sometimes she sits back and just listens the whole time.
"I found out that a lot of people out there need to speak to someone. Many of them are even younger than me, but they've got real health issues and mobility limitations. They don't drive, and they live alone. Their family could be estranged or far away or they don't have any family. People need someone to talk to."
They aren't the only ones who look forward to the calls. Since Wanda talks to the same people routinely, real relationships form, and it goes both ways. "I miss the people too, if I don't talk to them. I didn't know how much I would enjoy it."
This mutuality is an important part of the MyHello model. Research points to mutuality (a feeling of intimacy and positive relationship between caregiver and care receiver), as a key variable in the mental and physical health of both people. In health care, patients who experience high mutuality in care have faster recovery time from disease, as well as reduced anxiety and depression and improved quality of life. Also, addressing loneliness and Social Determinants of Health (SDoH) is key. Loneliness is associated with major health risks and costs with higher rates of heart disease, diabetes, depression, and dementia. Research MyHello (peer-to-peer programs) have reduced loneliness by 15% and improved client satisfaction with the health plan (NPS scores). 
As LifeBio anticipates expanding our MyHello program in the coming year and hiring more MyHello Guides, Wanda serves as a reminder that life experience is an asset. It may actually help some Guides better connect with our clients and provide that valuable element of mutuality that makes for more impactful care. We all want to talk to someone who can relate to what we are going through. We want someone to "get it."
As for Wanda, she says being a MyHello Guide helps her see that the hard times she personally faced now have more meaning and purpose. Wanda is resilient, and she is optimistic too!
"I truly believe God has brought me to this place with all these things that I've lived through, learned about, and wondered about. Everything helps me connect with the special people on the line."
Thank you, Wanda. We are so happy to have you on LifeBio's MyHello line!