A Life of Love: Marjorie's Story
Posted By: Marjorie B. | Posted On: 24 February, 2022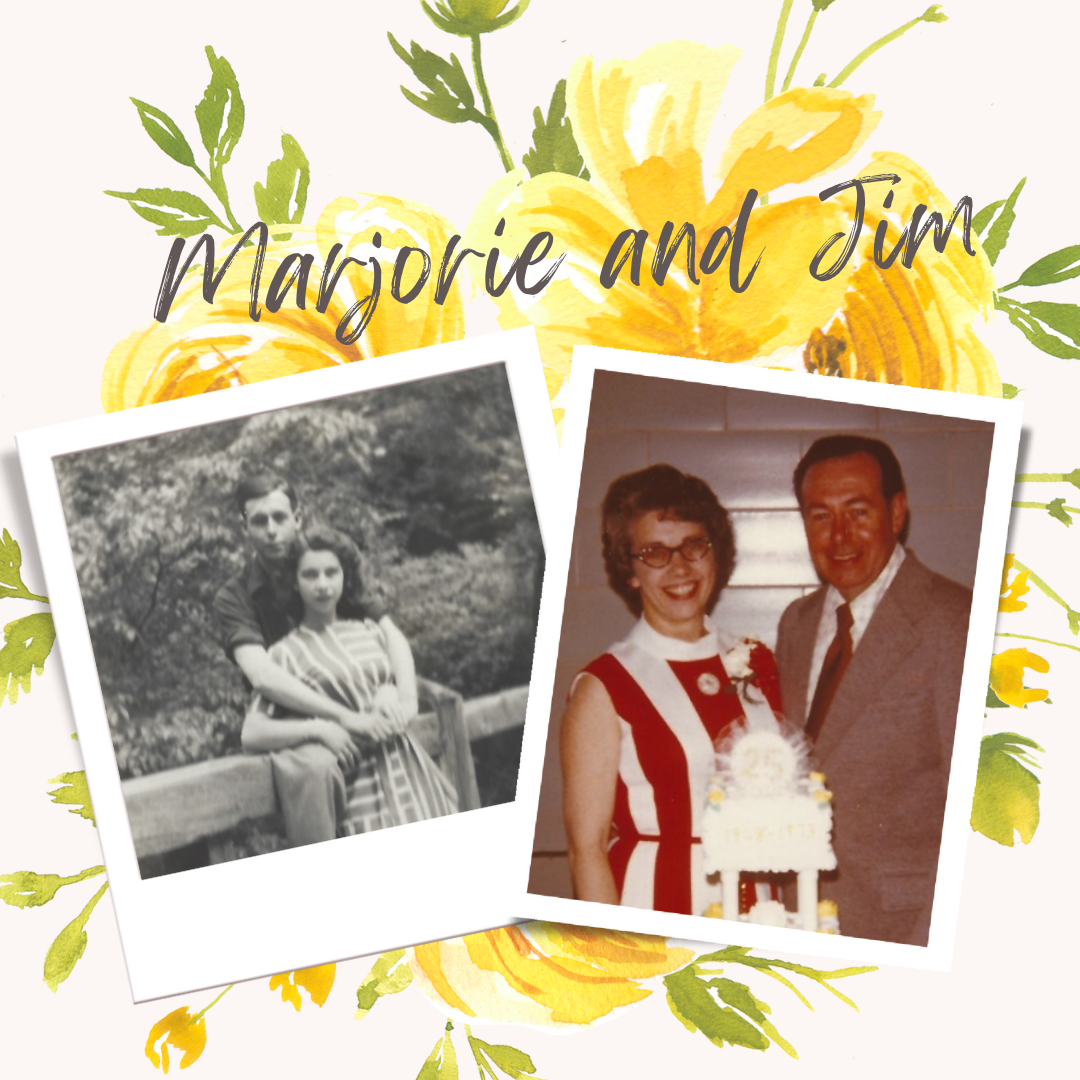 My name is Marjorie. I was born in 1929 in Ohio County, Indiana. I have had true love in my life in several ways. I have been blessed with a loving family growing up. When I met and married Jim, we shared true love until he passed away, and that love still remains. I'm also very blessed to have a loving family (4 children, 9 grandchildren, 11 great-grandchildren and still growing). And I have experienced the true love of Jesus for me, and I for Him. Praise the Lord! 
My mom was a very strong person who raised eight children (plus one brother who died at about 8 years old), amid Depression times of the 1930s. She always worked hard, complained very little, and was always ready to help others. She loved all her children and made it possible for all of us to graduate from high school. I am sure she deprived herself of much to see that her children were well taken care of. A wonderful example to all of us and a great helpmate to our dad.
My dad was a mild-mannered man who raised his family on a small hill farm in southern Indiana. He loved all his family and helped them see the value of hard work and dedication to each other. Mom and Dad became Christians around 1940-45 and kept us all in church until we left home, getting us grounded in our faith.
My situation was very unique. My mother's sister (Sadie) and my dad's brother (Marion) married and lived on the adjoining farm and were always very close. Around the time I was 2 years old, I am told, I went to live with them, and they raised me as their own daughter until I married. Sadie and Marion had no children of their own. I was able to interact with my siblings and Mom and Dad because of the nearness of the farms--the best of two worlds!
I met my spouse, Jim, in high school and started dating when I was a Junior, and he was a Senior. You have heard the old saying that "opposites attract," this could be said of Jim and me. He was a "city" boy from Rising Sun, Indiana, and I was a country girl, growing up on a farm outside of town. He surely knew very little about farming! I went to help milk one Sunday evening when he was there. I was so embarrassed to have to go to the barn, but he wanted to go along. He watched for a while then said, "I think I could do that." So, I told him to get a stool and give it a try! I told him to speak to the cow so she would know he was there, and he walked up to her head and said, "Howdy!" Uncle Marion laughed so much he almost fell on the floor. Jim never did get the hang of milking.
At the time of our wedding, our home church had been destroyed by a tornado, so we were married in my home with only close family from both sides attending. His brother, Charlie, and my sister, Betty, were our attendants. Wedding cake and treats were served. Nothing like the big affairs held today, but a great day for us. I had wanted yellow roses for my wedding, but we were unable to get them because the Ohio River had flooded, and they were not available. Over the years, Jim would often give me yellow roses on our anniversaries to make up for not having them at our wedding.
At the beginning, we were an unlikely couple going into marriage, but God gave us 55 years together, and we loved each other dearly. Now I live with the good memories. When God came into our lives, it made so much of a difference and it maybe even saved the marriage.
Be prepared to give and take. Life will hand you many challenges and things will not go as you might hope. Your line of work may not stay the same and may require moving from one place to another. Depend on each other to get through the rough times that day to day living requires. I have found that my faith and trust in Jesus have been my anchor through the troubled times that we all have. Love conquers all. 
________________________


When I set out to do a LifeBio book with my Mom, my motives were somewhat selfish. I could see that she was the last one of her generation that would be able to share their stories, and I wanted her story to be preserved for future generations in her family. And I can't begin to tell you what a blessing that has been for us! Now we ALL have a copy of the book with all the pictures and stories to treasure. They are not divided among the family as is often the case. But the hidden blessing in doing this was when I saw my Mom's face when I showed her the book. This sweet, very humble woman was so proud of herself, not only for writing the book, but proud of the life she had led. A LifeBio book is a great way for people to reflect on the value of their life and to celebrate their legacy. I highly recommend creating a LifeBio book with a loved one in your life. The team at LifeBio made the process so easy and enjoyable, and it is a wonderful way to preserve and celebrate the life of someone you love. Start it today!

Lisa, Marjorie's daughter (and book editor)