LifeBio helps those with terminal illnesses to write a letter to future generations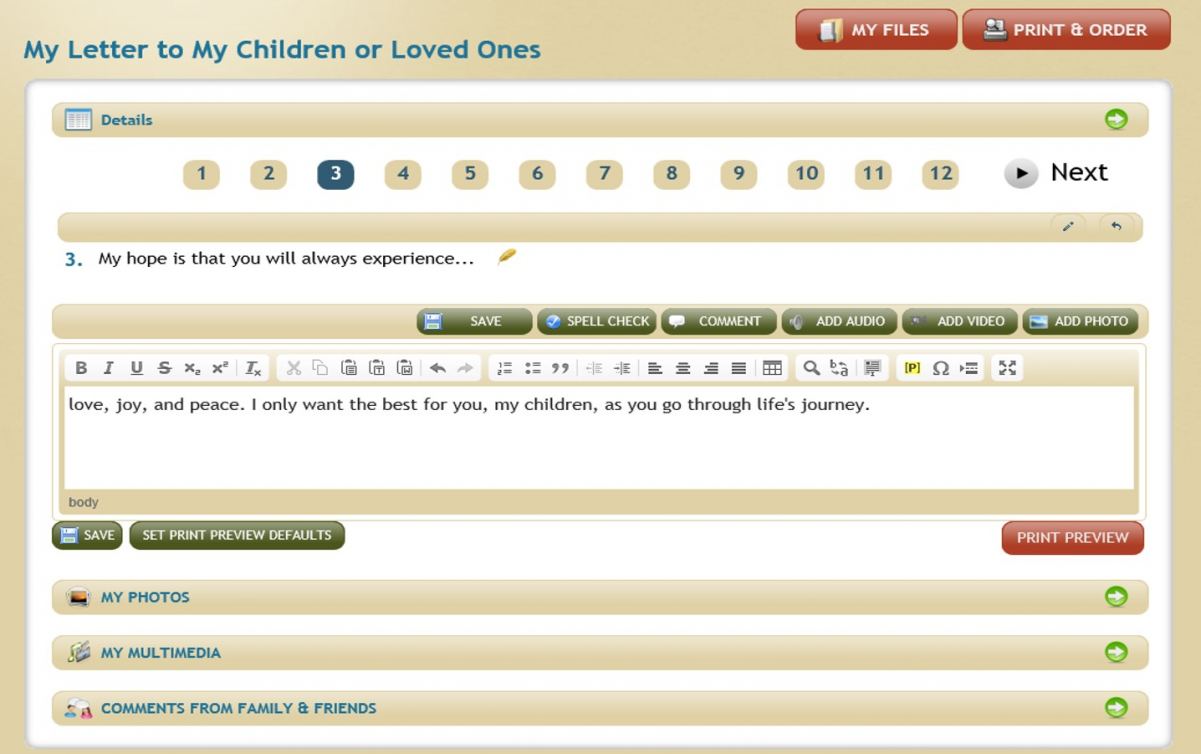 LifeBio's new "Letter to My Children and Loved Ones" template provides a simple approach to empower mothers and fathers to share their memories, wishes, and advice with present and future generations.
PRLog
-
July 10, 2015 - COLUMBUS, Ohio --
Fond memories of time spent together often sustains us after the loss of a loved one, but families are concerned that remembrances will fade. For a person facing death (especially mothers or fathers with small children or teenagers), writing a heartfelt letter that documents key information is the most precious and lasting gift that can be given.
For some, writing comes naturally and for others it can be a challenge especially when facing cancer, kidney failure, heart issues, or other life-threatening illnesses.
"We know that people of all ages
struggle
with what to say to their children as they reach the end of their lives. Families have urged us to create this new 'Letter to My Children and Loved Ones' template because people need a simple way to say what matters most--before it's too late. It's tough to just look at a blank sheet of paper and wonder what to write," said Beth Sanders, LifeBio's founder.
LifeBio's newest template provides thought-provoking prompts. LifeBio also offers suggestions on how to begin answering the question. Once finished, the letter is generated and ready to print and share. The letter may be read immediately or at a later time. Some points could be appropriate to share at a child's graduation, before a wedding day, at the birth of a child, or upon another occasion.
Here are some sample sentence starters:
Treasure each day you have because it will teach you... (how precious life really is, courage and strength, etc.)...
You may have tough times along the way, but I want to encourage you to... (never give up, go after your dreams, keep your family as a priority, etc.)...
On these special occasions, I have a few things to share... (on a birthday, on a graduation day, on a wedding day, on the day a child is born, etc.)...
"The idea of writing an
ethical will
has been around for thousands of years, we have just brought this idea into the 21st Century with easy-to-use, secure technology. The 'Letter to My Children or Loved Ones' template inside the "Stories" area of
www.lifebio.com
offers a do-able way to preserve some of the most important memories, advice, and hopes for future generations," said Sanders.
_________________________
LifeBio is the first website to provide an online autobiography/biography system. LifeBio works with individuals, senior care, health care, hospice, financial planners, and estate attorneys.  Call 1-866-LIFEBIO
(1-866-543-3246
) or email
info@lifebio.com
for more details. Visit
www.lifebio.com
to signup for a free trial (upgrades to full features are available starting at $7.99/month).
#ethicalwill   #family   #health   #ancestry  #seniorcitizens  #hospice  #aarp   #patientcentered  #personcentered   #dying   #death 
| | | | |
| --- | --- | --- | --- |
| Contact Email |   | : | info@lifebio.com |
| Source |   | : | LifeBio |
| Location |   | : | Columbus - Ohio - United States |
| Industry |   | : | Health, Software |
| Tags |   | : | ethical will, Family, Health, ancestry, senior citizens, hospice, patient-centered care, person-centered care, dying, death |
|   |   | : |   |